Welcome to our site

2022 Lucia Nights in Historic Bishop Hill...
Bishop Hill invites you to join our 2022 Lucia Nights (Festival of Lights) celebration on Friday December 9 and Saturday December 10 from 6 to 9 p.m. This Swedish tradition is based on a legend of Saint Lucia, Queen of Light. During a famine in Sweden, on the longest and darkest night of the year, Lucia appeared wearing a long white robe and encircling her head was a crown of candles. Legend has it that Lucia appeared on a ship laden with food. When the ship was unloaded, both it and Lucia vanished. Girls in Sweden today wake their families on December 13th carrying a tray of Lucia buns while dressed in a white robe and wearing a crown of candles.
Lucia Nights begins in Bishop Hill with the Lighting of the Park Christmas tree at 6 p.m. on Friday, December 9. The public is invited to bring edible ornaments to hang on the tree. Jack Watson will provide the music at the tree lighting, followed by the Peoria Cooperative Academy Madrigal Singers. Throughout the evening, businesses and museums will have Lucia Girls to greet guests. Around the village, each building will have a single candle in each and every window, and sidewalks will also be illuminated by candles. Restaurants are open both evenings. Special Christmas gifts will be on sale.
On both evenings, Bishop Hill will be hosting a wide variety of free Christmas activities. At the Steeple Building Museum, Hammer and Pick will be playing a variety of Christmas and folk music from 6 to 9 p.m. The VASA National Archives will have a closing reception for their Early Christianity in Sweden and Documenting Swedish America exhibits. Also at the Archives, storyteller Brian "Fox" Ellis will share a medley of Swedish and Pioneer Christmas stories and songs from 6 to 8 p.m. At the Bishop Hill Fire Station, the Peoria Folkulele will perform at 6 p.m., Barry Cloyd will be performing at 7 p.m., and Jack Watson & Friends will be performing at 8 p.m. The Peoria Cooperative Academy Madrigal Singers will be performing at the Bishop Hill Creative Commons starting at 6 p.m. Kids can become a Lucia Girl or a Tomte by using the Colony Church's Selfie Station.
Both Friday and Saturday, the Bishop Hill Community United Methodist Church will host its annual Soup and Chili Supper, beginning at 4:00 p.m. A free-will donation is appreciated to cover the cost of the meal. In addition, Line of Sight Studios in the Dairy Building will be doing $50 Walk-In Family Mini Photo Session Specials.
On Saturday December 10 only, Entwined and the Krans Kafe are hosting horse drawn carriage rides on Saturday, December 10 only. A carriage ride cost $5 per person. However, children under the age of 1 are free. Also, at 7 p.m., there will be an Old Fashioned Barn Dance at the Colony School. The Sangamo Stemwinders will be performing. All dances taught and called by Gail Hintze and Jim Hicks. Admission is $5 per person, and beginners are welcome. No partner is necessary.
Lucia Nights is sponsored by the Bishop Hill Arts Council, Bishop Hill Heritage Association, Bishop Hill State Historic Site, VASA National Archives, Bishop Hill Old Settlers' Association, Bishop Hill Volunteer Fire Department, Bishop Hill Creative Commons, and numerous local businesses. This event is also partly funded by the Illinois Arts Council Agency. For more details, call 309-927-3899 or view www.visitbishophill.com.
Lucia Nights Printable Schedule
Experience Bishop Hill's Julmarknad...
Prepare for the holidays by attending Julmarknad, or Christmas Market, in Bishop Hill, IL.
Hours are 10 a.m. to 4 p.m. November 25, November 26, and December 3. On November 27 and December 4, the hours are from 11 a.m. to 4 p.m.
The daily attractions include Swedish folk characters, traditional Swedish holiday decorations, holiday music, craft activities, and Christmas gifts for sale. All our shops, museums, and restaurants will be open to satisfy your holiday needs.
See Tomten, our Swedish elves, roam through the town, looking through windows, and peeking around corners in their red and grey outfits.
A working model railroad will also be in the Steeple Building Museum, with a Christmas display.
The Vasa National Archives will have Take Home Dala Horse Kits available to purchase. Each kit has a horse, three colors of paint, and two brushes. Kits are $5 each. Supplies are limited and visitors can reserve them by calling 309 927-3898 or emailing email VasaArchivist@gmail.com. In addition, visitors to the Vasa National Archives can participate at the Make and Take Dala Horse Station where people can paint their Dala Horses in the basement and let them dry while shopping and exploring Bishop Hill. Dala Horses are $5 each and painting is free.
The Peasant Works will once again have a traditional Scandinavian photo op stand at the 1882 Poppy Barn for visitors and also free make and take for the kids. All of the above activities will happen each and every day of Julmarknad.
On Friday November 25 only, the Cookie Walk will be held at the Colony School from 9 a.m. to 4 p.m. Homemade cookies and other baked goods can be purchased by the pound. The Bishop Hill Methodist Church will be conducting an Advent Workshop where families can make Advent Wreaths to take home. Finally, cookie baking will be done in the historic Bjorklund Hotel kitchen from 1 to 3 p.m.

On Saturday November 26 only, the Cookie Walk will continue at the Colony School. Author Lilly Setterdahl, author of Until the Lights Come Back On, will be having a book signing at the Colony Store from 10:30 am. to noon. Lilly Setterdahl will then be at the Vasa National Archive from 1 to 3 p.m. to discuss the work done by her husband to preserve the Swedish-American experience and to answer questions related to getting started with your own genealogy search. Mrs. Setterdahl's visit will coincide with the closing reception of the Documenting Swedish-America: A Setterdahl Family Tradition exhibit. Light refreshments will be available. Authors Mary Davidsaver and Jannifer Powelson will be having a book signing at the Prairie Arts Center from 10 a.m. to 3 p.m. Cookie baking will continue at the Bjorklund Hotel kitchen. Saturday is also Small Business Saturday, so please support your local economy and shop the small businesses of historic Bishop Hill.

On Sunday, November 27 only, cookie baking will continue at the historic Bjorklund Hotel kitchen from 1 to 3 p.m.

On Saturday December 3 only, Mary Davidsaver, author of Shadows Over Bishop Hill, will be having a book signing at the Prairie Arts Center from 10 a.m. to 3 p.m.

On both Saturday December 3 and Sunday December 4, a Chocolate Walk will also be held at the Bishop Hill Creative Commons. Purchase quality homemade chocolates by the pound. Also, children are invited to make edible tree ornaments at the Bjorklund Hotel from 1 to 3 p.m. Peanuts will be used. These ornaments may be taken home, or left at the Hotel to be placed on the Bishop Hill Park's Christmas tree during the tree lighting on Lucia Nights. Rye bread will also be baked at the Hotel for visitors to sample. In addition, the Bishop Hill Arts Council will be holding a Gingerbread competition and raffle.
For more information about Julmarknad activities, please call 309-927-3899 or visit www.visitbishophill.com. Julmarknad events are sponsored, in part, by a grant from the Illinois Arts Council Agency, a state agency.
Print or View a One-Page Schedule of Events
Download the Official Press Release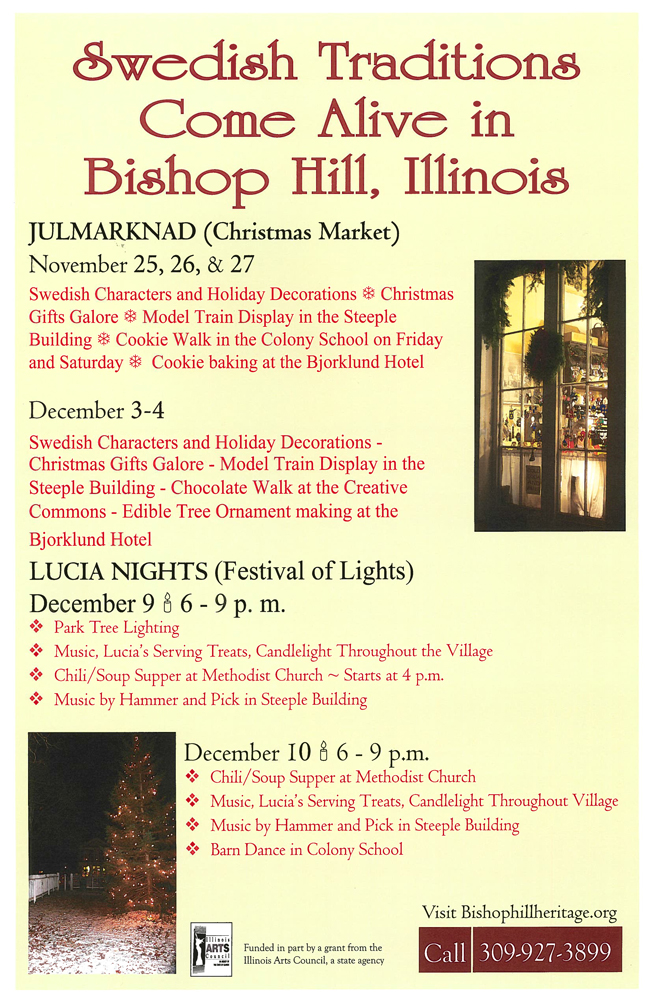 Facade Improvement Grant Announced...
An attractive image is of key importance to the success of any commercial area. Façade and storefront improvements are one of the most effective ways of upgrading the image of individual businesses and the business district.
Storefronts (the side of your building that faces the street) sell the business - and the business district - to customers and new tenants alike. An attractive appearance combined with quality products, competitive prices and good service creates a compelling image that will increase commerce, profits, and community pride.
The Façade Improvement Program seeks to help property owners and tenants improve the appearance of commercial buildings by providing a fifty percent (50%) reimbursement for expenses related to eligible architectural renovations to commercial property located within the Revitalization Project Area as identified by the Galva City Council.
Eligible Expenses:

Approved renovations to the building façade visible from the public right-of-way.  Priority will be given to accessibility (ADA), tuck-pointing and painting.  Accessibility may include the widening of doors and installation of ramps.  Tuck-pointing and other prepatory work may be required before painting.
Windows, doors and their applicable treatments
Lighting
Signage
Awnings
Maximum grant awards based upon building square footage:

25,000 square feet or more - $22,500
15,000 to 24,999 square feet - $17,500
5,000 to 14,999 square feet - $12,500
Less than 5,000 square - $7,500

Owners and tenants are eligible to re-apply until the maximum award is reached.

Eligible Businesses:

Owners or tenants of buildings that are used by and for for-profit business. Use of the building must conform to all current codes and ordinances; non-conforming uses of any kind are not eligible.
Prohibited businesses includes those operating from residential property, and any nonconforming uses. Portions of buildings occupied by ineligible businesses of any kind, including non- profit entities, are ineligible for program funds.
Owners of vacant buildings shall be eligible if the owner's purpose is to rehabilitate the structure to attract eligible businesses. Reimbursement will occur only after an eligible business occupies the space and opens to the public.
All real estate property taxes must be paid in full.

To get started, download the Facade Improvement Program Guide and the Facade Improvement Program Application
Northpoint Estates Lots For Sale...
Click on Image Below for Detailed Plat
The Galva Giant Makes It To YouTube...
OSF Announces The Care-A-Van Mobile Health Care Unit...
Gary Metiever Produces Galva Levitt Amp Video...
Eagle Enterprises Publishes New Recycling Standards...
Sons of the American Legion...
The Galva American Legion Post #45 has received their charter for a new Sons of the American Legions Squadron.
The Legion is looking for new members to get the squadron rolling.
If you have a parent, grandparent or great grandparent or step parent or step grandparent that was in the military, you are eligible to join.
If interested, please contact Wayne Glisan at (309) 335 - 2931, Lloyd Anderson at (309) 853 - 7347 or Earl Stuckey at (309) 853 - 7917