Welcome to our site

Levitt-Amp Concerts Kick Off 28 May...
Grab your lawn chairs and get ready for a summer of live music! Galva Arts Council is excited to welcome The Empty Pockets and 7000apart to Galva this Sunday, May 28th to kick-off the series. Every Sunday between now and August 6th, this family-friendly concert series will bring free live music to Wiley Park in Galva, Illinois. All of the concerts start at 6:00 PM and end shortly after 8:00 PM and feature two acts per night. Guests are encouraged to bring lawn chairs or blankets for seating on the lawn. A variety of food vendors will be on-site and guests are welcome to bring in outside food as well. Within listening distance from the stage is a playground area and basketball courts. Restrooms are available on-site. Street parking is available around the park and neighboring streets. The street running through the park will be closed during concerts. Those with golf carts/UTVs are asked to keep their vehicles on the perimeter of the audience to prevent blocking the view of guests and minimize the risk of accident while driving through the park.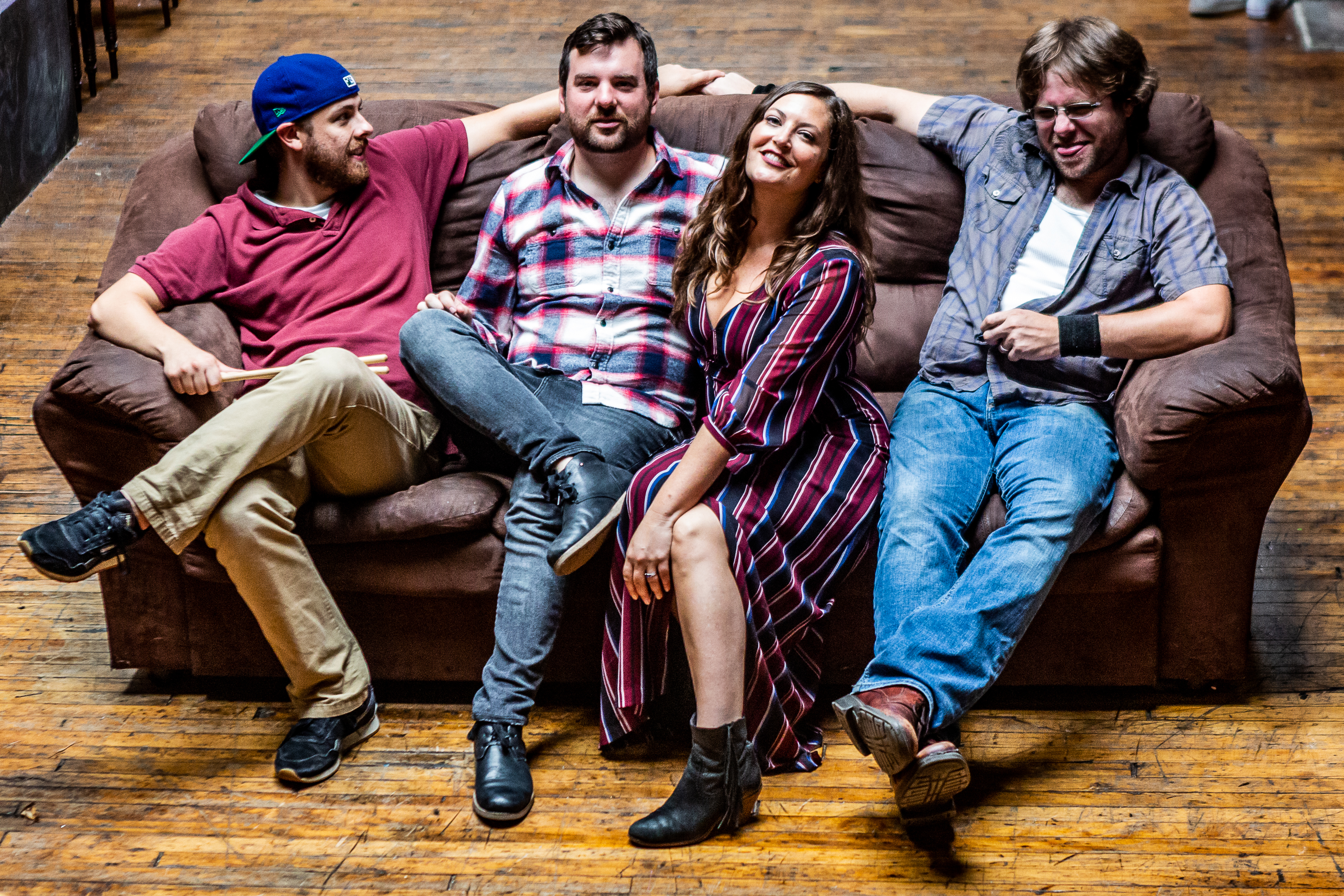 Americana quartet The Empty Pockets play a soulful, 70's-inspired blend of exploratory grooves, shifting time signatures and distinctive vocals. This unassuming Chicago-based indie powerhouse is quietly conquering the Billboard charts, connecting with fans, filling venues across America, and doing it all on their own terms. The Empty Pockets isn't just a band name, it's an ethos.
Swedish/American alt-pop duo, 7000apart, combine powerful vocals with strong songwriting and moody melodies to deliver music on an emotional level. Singer, Amelie Eiding and multi-instrumentalist, Jon Kresin have both struggled with their own mental health issues over the years and have found the cathartic nature of radical honesty, self-acceptance, and artistic expression through songwriting therapeutic. Their experiences and time spent healing have fostered a genuine passion for helping others through their music.
The Levitt AMP Galva Music Series is supported by many community sponsors, donors, and volunteers, and the Mortimer & Mimi Levitt Foundation, a private foundation that empowers towns and cities across America to transform underused public spaces into thriving destinations through the power of free, live music.
Learn more at www.GalvaMusic.com.
Bishop Hill Announces Concert Series...
Bishop Hill Heritage Association has planned a series of FREE, family-friendly concerts over the course of the summer. The concerts will be held at the Village Park, rain or shine, unless dangerous conditions arise.
Guests are asked to bring lawn chairs.
In addition to food and drink options offered by Bishop Hill establishments, area organizations and vendors will be set up to provide additional food and drink options during these events.
For more information about this concert series, contact the Bishop Hill Heritage Association at 309 927-3899 or bhha@mymctc.net .
About the ABBA Concert In Bishop Hill...
To honor the upcoming National Day of Sweden, the Bishop Hill Heritage Association is pleased to announce that an ABBA tribute band will be performing at 1 p.m. in the village park in Bishop Hill IL on Saturday June 3, 2023. DANCING QUEEN: An ABBA Salute is the ultimate tribute to the music of ABBA – sure to capture the hearts of fans and audiences of all ages! This live show is full of musical precision, fabulous flair and fashion, and promises a mesmerizing ABBA experience for every Chiquitita, Super Trouper, Fernando, and Dancing Queen around! Fronted by a dynamic Agnetha and Frida duo, the music of the greatest pop band in history comes to life in a joyful celebration of these timeless tunes. "DANCING QUEEN: An ABBA Salute" is the Midwest's longtime #1 ABBA tribute, with a repertoire of over 30 all-time favorite hits. From Waterloo to Mamma Mia, SOS to Knowing Me Knowing You, Honey Honey to Voulez-Vous, audiences won't be able to help singing and dancing along with this high-energy homage to everything ABBA!
In addition to the two-hour concert, local organizations will be offering food and drinks. The BHHA will be hosting a beer garden and beverage area between the Carpenter Building and the Blacksmith Shop. The Bishop Hill Fire Department will have a food stand at the baseball diamond. In addition, the Bishop Hill Old Settlers' Association will have a hot dog stand, located next to the Colony Store. Finally, the Bishop Hill Methodist Church will also be having a bake sale next to the Steeple Building Museum.
The Dancing Queen concert is free and open to the public, due to the financial support of the Community State Bank, Barbro Osher Pro Suecia Foundation, Illinois Arts Council Agency, SWEA-Chicago, and the Bishop Hill Heritage Association. Please bring lawn chairs and enjoy this Las Vegas type show! For more information about this wonderful musical performance, please check out www.bishophillheritage.org, call 309 927-3899, or email bhha@mymctc.net.

Blue Star Home Program Announced...
Applications are begin accepted for those that wish to participate in the Blue Star Home Program ("the Program").
Upon completion of an extensive background check, a Blue Star home will be given the opportunity to display a blue star on on their homes indicating that they have chosen to assist any young person that feels threatened in any manner, whether that threat is bullying, suspicious activity or imminent bodily harm.
Any juvenile that is uncomfortable with conditions outside a Blue Star Home may seek refuge from those conditions by ringing the door bell, pounding on the front door or yelling for help.
Blue Star Home participants are limited to assessing the situation, calling the child's parent or guardian absent an immediate threat, reporting all such incidents to the Galva Police immediately after contacting the child's parent or guardian, or in the case of a threatening situation immediately dialing 911.
Further, Blue Star Home participants agree that they will NOT take the law into their own hands, and that they will always have the best interests of the child in mind when offering assistance.
The Galva Police Department reserves the right to reject any application for the Blue Star Home Program for any reason or for no reason at all.
If you would like to participate in the Program, download the Application, fill it out in its entirety, and return it to City Hall. If your application is approved, you will receive a call from the Galva Police Department indicating acceptance into the Program and will be allowed to pick up your Blue Star from City Hall.
Galvan Ryan Olson Featured In Airman Magazine...
When Ryan was a senior at the Air Force Academy, Airman Magazine wanted to do a video on the space program at the Academy. Ryan was the number one cadet in the Astronautical Engineering department and was chosen to do this video.
The Galva Giant Makes It To YouTube...
OSF Announces The Care-A-Van Mobile Health Care Unit...
Gary Metiever Produces Galva Levitt Amp Video...
Eagle Enterprises Publishes New Recycling Standards...
Sons of the American Legion...
The Galva American Legion Post #45 has received their charter for a new Sons of the American Legions Squadron.
The Legion is looking for new members to get the squadron rolling.
If you have a parent, grandparent or great grandparent or step parent or step grandparent that was in the military, you are eligible to join.
If interested, please contact Wayne Glisan at (309) 335 - 2931, Lloyd Anderson at (309) 853 - 7347 or Earl Stuckey at (309) 853 - 7917