Welcome to our site

Northpoint Estates Lots For Sale...
Click on Image Below for Detailed Plat
Freedom Fest Trivia Night...

Freedom Fest Presents 15th Annual Car Show...
Click The Image Below For Registration Form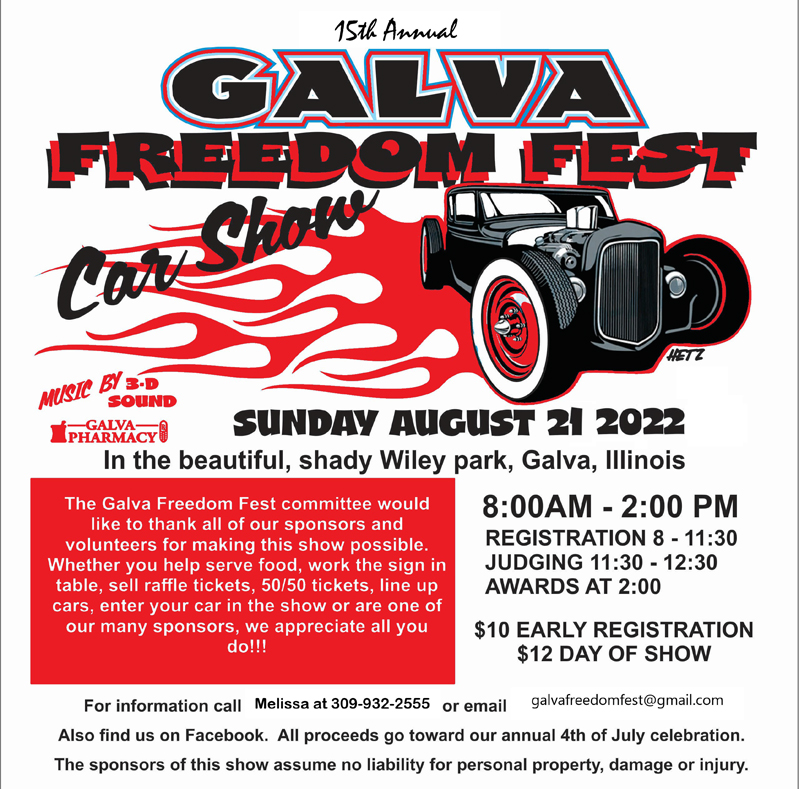 Courtyard Estates Presents Check to Galva Police Department...
Local Organizations Provide Financial Support to the BHHA...
The Bishop Hill Heritage Association is pleased to announce that it has received two grants from local organizations. From Community State Bank, the BHHA received a gift of $1,000. Funding for this gift came from CSB's partner, the Federal Home Loan Bank of Chicago. This grant will be used to assist with the Heritage's general operating expenses during the pandemic.
Through their GCF Community Impact Fund, the Galesburg
Community Foundation has given $2,500 to the BHHA for a 2021 Program Series at the Dairy Building. Next year is the 175th anniversary of the founding of the Bishop Hill Colony. As part of this anniversary, the Heritage is hosting a series of lectures, workshops, and concerts celebrating the heritage of Bishop Hill. Funding from the Galesburg Community Foundation will partially support these programs.
The BHHA is dedicated to preserving the history of the Bishop Hill Colony and passing it on to future generations. Like many other nonprofit historical organizations, funding has drastically decreased due to lower visitor revenues. These grants will assist us to continue our activities. The Bishop Hill Heritage Association thanks Community State Bank and the Galesburg Community Foundation for their financial support.
OSF Announces The Care-A-Van Mobile Health Care Unit...
Gary Metiever Produces Galva Levitt Amp Video...
Eagle Enterprises Publishes New Recycling Standards...
Galva Arts Council Secures Third Award...
The Galva Arts Council will once again enliven Wiley Park through the second Levitt AMP Galva Music Series, further activating the large, underused green space into a dynamic hub for self-expression, connection and layered arts experiences set to free, live music from across the globe.
The 2021 series aims to deepen community engagement and expand upon community partnerships, creating a weekly communal celebration of the best Galva has to offer.
For photographs of last year's series of concerts, visit our Gallery or visit the official Levitt AMP Galva Facebook page.
Sons of the American Legion...
The Galva American Legion Post #45 has received their charter for a new Sons of the American Legions Squadron.
The Legion is looking for new members to get the squadron rolling.
If you have a parent, grandparent or great grandparent or step parent or step grandparent that was in the military, you are eligible to join.
If interested, please contact Wayne Glisan at (309) 335 - 2931, Lloyd Anderson at (309) 853 - 7347 or Earl Stuckey at (309) 853 - 7917