Welcome to our site

First Annual Back Road Bites and Brews restaurant week in Henry County, February 23-29...
The Henry County Tourism Bureau (HCTB) is organizing the first annual Henry County restaurant week event, Back Road Bites and Brews, to be held during the week of February 23-29, 2020.
During this event, restaurants throughout Henry County will be offering special discounts and deals to diners.
Each participating restaurant is offering a promotion of their choosing, including free items or discounts on the total bill.
Diners can pick up a Passport from any participating restaurant and receive a stamp. After visiting and receiving stamps from three different restaurants throughout the week, they can turn in their Passport for entry into a drawing for restaurant gift cards.
The Henry County Tourism Bureau hopes to draw visitors from surrounding areas at a time when restaurant business is typically slow. "It's a win-win for the diners and the restaurants." says Cheryl Osborne, director of the HCTB. "We want to help tourists in our neighboring areas find a new favorite restaurant to visit regularly. While they are here, they can eat, shop, enjoy a show or event, and discover all that Henry County has to offer."
More information on the event, including participating restaurants and their offers, can be found at backroadbitesandbrews.com. The list will be updated daily until the event.
Black Hawk College Announces Career & College Camp...
Healthy Kids U Partners With YMCA...
Healthy Kids U has joined the YMCA of Kewanee to offer a community-based healthy lifestyle program combining exercise with nutrition and behavioral classes.
This free 8-week program helps children ages 8-15 and their families develop healthier habits through hands-on games, activities and education. Participants work with our team – a dietitian and health care professional from OSF HealthCare Saint Luke Medical Center and a personal trainer from the YMCA – to develop healthier habits. Participants also have access to the YMCA's facilities during the duration of the program.
"5-2-1-0 Healthy NH" is a statewide public education campaign to bring awareness to daily recommendations for nutrition and physical activity. Its message is simple and clear and represents some of the most important steps families can take to prevent childhood obesity.
Any child between the ages of 8 – 15 that display more or less than the recommendations provided by the state wide public education campaign would benefit from our Healthy Kids U Program.
If interested, please complete and sign the event registration and waiver form (registration and waiver forms are at the bottom of the document) and send to Laura Luciani at the YMCA via email or fax. If you have any additional questions, please feel free to contact Laura Luciani for more information by Email (Laural@kewaneeymca.com) or by phone (309-853-4431).
An Open House to explain the program will be held at the YMCA on 3 Febraury: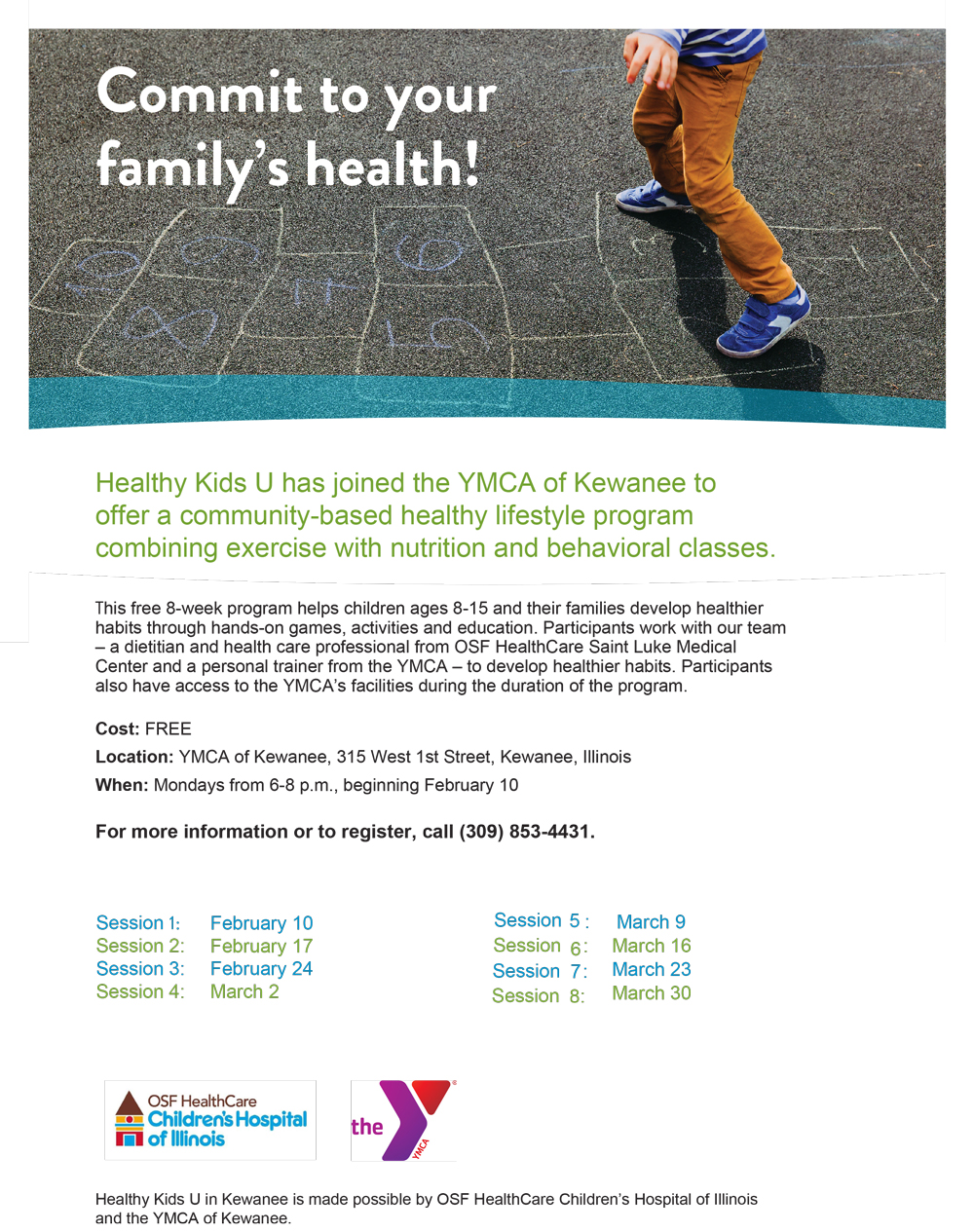 Eagle Enterprises Publishes New Recycling Standards...
OSF Announces Dinner With A Doc...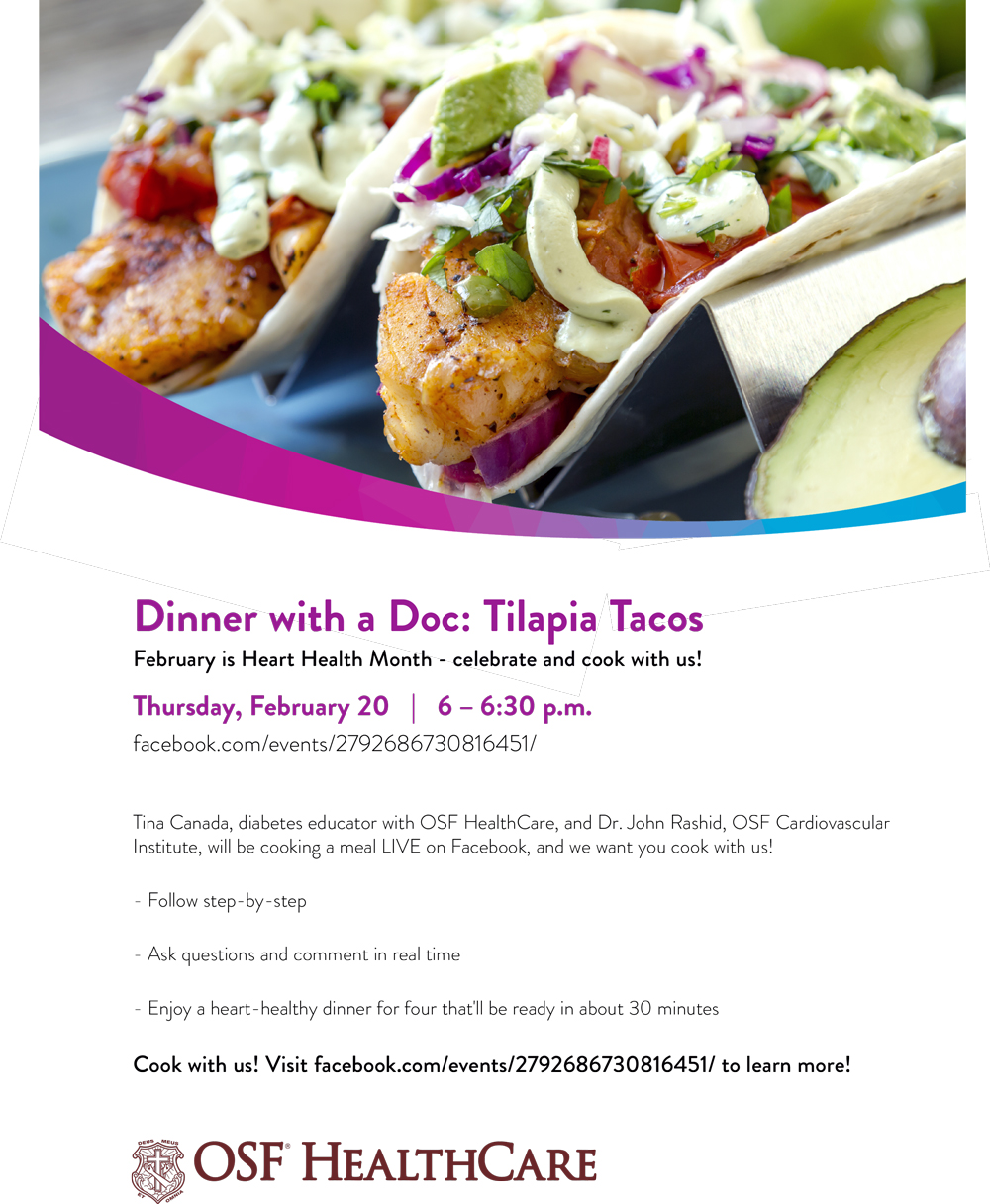 Census Bureau Launches Updated Website...
The U.S. Census Bureau recently launched a new version of 2020census.gov. The new website adds features, resources, and materials to help inform the public about the 2020 Census.
The site includes dozens of new Statistics in Schools materials, a new webpage to share facts about the 2020 Census, information on applying for jobs, and frequently asked questions (FAQs).
The new Statistics in Schools material will be released throughout the fall and includes 67 classroom activities, updated classroom maps with census statistics, three videos for students in grades K-12, a singalong song, and a new activity book for children ages 2 to 5. With these materials, teachers can incorporate Census Bureau statistics into subjects such as language arts, math and social studies.
From The Regional Census Center...
The Chicago Regional Census Center will begin Address Canvassing this week.
The purpose of Address Canvassing is to ensure the census address list is accurate and complete for the 2020 Census.
Your member governments and concerned households should be made aware that Address Canvassing is commencing and that there will be Census workers throughout communities until October 18th, verifying locations of houses, apartments, shelters and other places where people could live or stay.
The Chicago Regional Census Center's Office of Security sent a memo and a poster about Address Canvassing to each and every law enforcement agency in the country. The poster contains sample pictures of the official government badge with photo ID and the bag and laptop with the 2020 Census logo that address canvassers will have with them.
In addition, via a partnership with the International Association of Chiefs of Police, every police station in the country will show the Address Canvassing video this week at the start of police shifts, known as roll call, so that police officers know the operation is occurring and how to identify a census worker.
American Legion March Events:
Community Breakfast - The Galva American Legion will be holding a community breakfast at the Galva Legion Building located at 45 Wallace Street on 8 March 2020 from 7:00 a.m. until 1:00 p.m. They will be serving all you can eat pancakes, sausage, bacon, eggs, biscuits and gravy, coffee, milk and orange juice. Pop and bottled water available for an extra charge. A donation of $6.00 is appreciated.
Veteran's Breakfast - All veterans are invited to the Galva Legion bets breakfast. This breakfast is held the second Saturday of each month at the Legion Building. Open at 0700. Food is served at 0730. Cost is $8.00.
Galva Arts Council Secures Third Award...
The Galva Arts Council will once again enliven Wiley Park through the second Levitt AMP Galva Music Series, further activating the large, underused green space into a dynamic hub for self-expression, connection and layered arts experiences set to free, live music from across the globe.
The 2020 series aims to deepen community engagement and expand upon community partnerships, creating a weekly communal celebration of the best Galva has to offer.
For photographs of last year's series of concerts, visit our Gallery or visit the official Levitt AMP Galva Facebook page.
Sons of the American Legion...
The Galva American Legion Post #45 has received their charter for a new Sons of the American Legions Squadron.
The Legion is looking for new members to get the squadron rolling.
If you have a parent, grandparent or great grandparent or step parent or step grandparent that was in the military, you are eligible to join.
If interested, please contact Wayne Glisan at (309) 335 - 2931, Lloyd Anderson at (309) 853 - 7347 or Earl Stuckey at (309) 853 - 7917