Welcome to our site

From The Regional Census Center...
The Chicago Regional Census Center will begin Address Canvassing this week.
The purpose of Address Canvassing is to ensure the census address list is accurate and complete for the 2020 Census.
Your member governments and concerned households should be made aware that Address Canvassing is commencing and that there will be Census workers throughout communities until October 18th, verifying locations of houses, apartments, shelters and other places where people could live or stay.
The Chicago Regional Census Center's Office of Security sent a memo and a poster about Address Canvassing to each and every law enforcement agency in the country. The poster contains sample pictures of the official government badge with photo ID and the bag and laptop with the 2020 Census logo that address canvassers will have with them.
In addition, via a partnership with the International Association of Chiefs of Police, every police station in the country will show the Address Canvassing video this week at the start of police shifts, known as roll call, so that police officers know the operation is occurring and how to identify a census worker.
Seventh Annual Chautaugua Announced...
The Bishop Hill Heritage Association is excited to announce the line-up for this year's seventh annual Chautauqua, Saturday, August 24th, from 11:00 am until 5:00 pm. The theme this year is "An Encounter With Visionaries." The re-enactors will bring to life four characters who changed the world: the pioneering biologist Charles Darwin; a leader in the effort to win women the right to vote, Susan B. Anthony; botanist and civil rights hero, George Washington Carver; and the first singer/songwriter to win the Nobel Prize, Bob Dylan!
The festivities begin at 11 a.m. with Brian "Fox" Ellis portraying Charles Darwin and telling the stories of his voyage around the world on HMS Beagle. As one scholar has said, modern biology would make no sense without Darwin's theory of evolution. Though highly controversial in his day, 150 years of research has only confirmed his ideas. This performance is equal parts history, science and stand-up comedy as Darwin shares the stories of his adventures in the wildest places on the planet.
At Noon, there will be a lunch break so visitors can enjoy one of three fine restaurants in Bishop Hill, or visit the shops and museums.
At 1 pm, Annette Baldwin will take the stage as Women's Rights Advocate Susan B Anthony. She was the bold, courageous and unstoppable leader of the Woman's Suffrage Movement. Chicago-area actress Annette M. Baldwin has lectured and performed on the woman's suffrage movement for over 20 years.
At 2 p.m., local dignitaries will re-dedicate the 1851 Carpenter Building. Thanks to the support of the community, this important Bishop Hill Colony building has underwent an historic exterior restoration, with new windows and new brick. Light refreshments will be served. Music will be provided by Hammer and Pick.
At 3 p.m., Emmy winning storyteller Bobby Norfolk will take the stage as George Washington Carver. Carver is a farmer and botanist whose research transformed agriculture not only popularizing peanut butter, but changing the way we think about rotating crops for soil health.
And at 4, Danny Fox will present a concert of your favorite Bob Dylan songs. He has opened for such prestigious acts as Buddy Guy, Roger McGuinn of The Byrds, Ramblin' Jack Elliott, Joan Baez, Tom Paxton, and Beatles tribute acts American English and The Cavern Beat. He has also won the Bob Dylan singer/songwriter competition in his hometown of Hibbing, Minnesota, three years in a row.
Brian "Fox" Ellis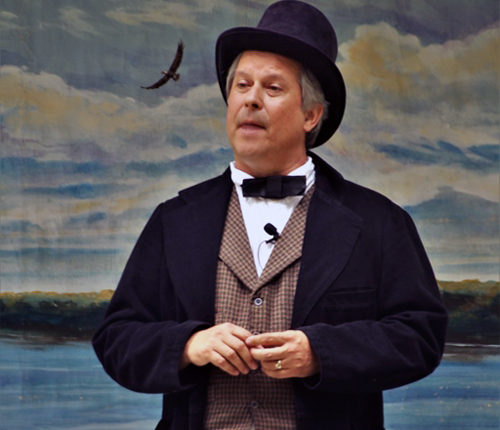 Annette Baldwin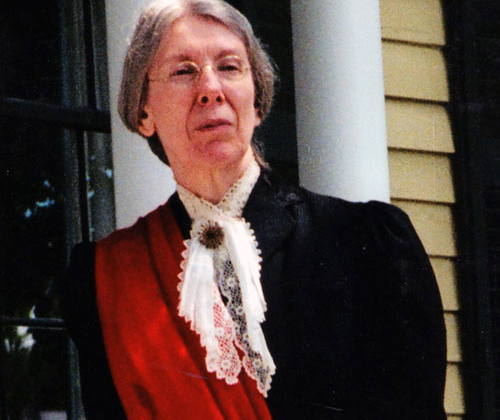 Bobby Norfolk
Danny Fox
All performances are at the gazebo, in the town square. This FREE family program is sponsored by the Bishop Hill Heritage Association, the Bill and Susan Sherrard Foundation, Galesburg Community Foundation, and the Twinflower Inn Bed and Breakfast. Come early to visit museums and shops. Folks are encouraged to bring a lawn chair. For more information, call 309-927-3899, visit www.bishophillheritage.org or email bhha@mymctc.net .
Pie At The Steeple Building...
On Saturday August 17, the Bishop Hill Heritage Association will be having a fundraiser during the Plein Air Paint Out and Hummingbird Festival.
From 11 a.m. until it is gone, please stop by for a scoop of ice cream, a slice of freshly made pie, and a drink for just $6 at the Pie at the Steeple, located on the front porch of the Steeple Building Museum.
The ice cream and pies have been donated by the Bishop Hill Bakery and Eatery. Proceeds from this fundraiser support BHHA activities.
The Steeple Building Museum is located at 103 North Bishop Hill Street in Bishop Hill, IL. Please call 309 927-3899 or email bhha@mymctc.net for more details about this fundraiser.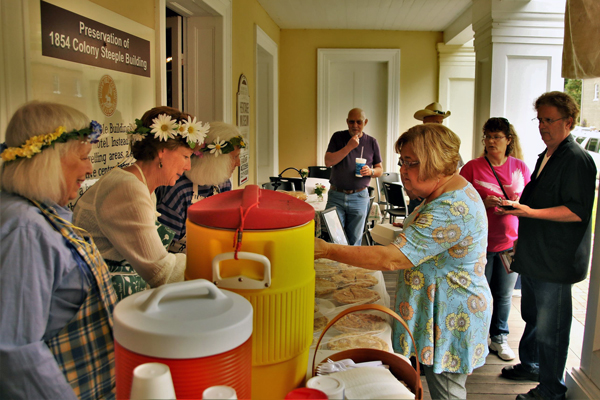 Galva Freedom Fest Announces...
The Galva Freedom Fest Committee announces the 13th Annual Car Show which will be held in Wiley Park on Saturday, August 17th of this year.
The Committee will be holding its 13th Annual Car Show from 8:00 a.m. until 2:00 p.m. in beautiful, shady Wiley Park.
Register early by clicking the image below:
American Legion September Events:
Community Breakfast - The Galva American Legion will be holding a community breakfast at the Galva Legion Building located at 45 Wallace Street on 8 September 2019 from 7:00 a.m. until 1:00 p.m. They will be serving all you can eat pancakes, sausage, bacon, eggs, biscuits and gravy, coffee, milk and orange juice.Pop and bottled water are available for an extra charge.A donation of $6.00 is appreciated.
Galva Arts Council Secures Second Award...
The Galva Arts Council will once again enliven Wiley Park through the second Levitt AMP Galva Music Series, further activating the large, underused green space into a dynamic hub for self-expression, connection and layered arts experiences set to free, live music from across the globe.
The 2019 series aims to deepen community engagement and expand upon community partnerships, creating a weekly communal celebration of the best Galva has to offer.
For photographs of last year's series of concerts, visit our Gallery or visit the official Levitt AMP Galva Facebook page.
Sons of the American Legion...
The Galva American Legion Post #45 has received their charter for a new Sons of the American Legions Squadron.
The Legion is looking for new members to get the squadron rolling.
If you have a parent, grandparent or great grandparent or step parent or step grandparent that was in the military, you are eligible to join.
If interested, please contact Wayne Glisan at (309) 335 - 2931, Lloyd Anderson at (309) 853 - 7347 or Earl Stuckey at (309) 853 - 7917