Welcome to our site

Music Series Lineup Announced...
Grab some lawn chairs and get ready for a summer full of music in Galva. The Galva Arts Council is excited to announce a very talented lineup for its 10-week Levitt AMP Galva Music Series presented by Regional Media.
Held at Wiley Park in Galva, these Sunday concerts are an opportunity for community members of all ages to enjoy free live music in a picnic-style setting. Special activities and dinners put on by a variety of local organizations in Wiley Park will precede the concerts. Food and beverages will be available for purchase during concerts.
Admission to the concerts is free and attendees are encouraged to invite friends, family, and neighbors for an opportunity to meet new friends and celebrate the summer season.

The 2018 lineup includes the following acts:

There will be a vendor market before the concerts May 27th, June 24th, July 22nd, and August 5th from 1:00PM to 6:00PM at Wiley Park. We are planning on having local organizations serve dinner in the park, from 4:30PM to 6:00PM before each concert.
Above is the winning concert series logo designed by Andrew Carlson, which was chosen by public vote.
The Levitt AMP Galva Music Series presented by Regional Media is made possible by generous community support, including the following major sponsors: Mediacom, City of Galva, Quad City Arts, Illinois Arts Council, Galesburg Community Foundation, Bishop Hill Bakery & Eatery, Twinflower Inn, Community Foundation of Central Illinois, Fallengrund Alpacas, Galva Pharmacy, Michael and Lynne Grant Faller, State Bank of Toulon, Brian "Fox" Ellis, In Memory of Bill Martin Jr., The Back Road Music Festival, Big River Resources, Casey's General Store, Crescent City Tap, Delta on the Square, Dixline, Galva Chamber of Commerce, Hand Taylored Massage, Hathaway's, John H. Best & Sons, Inc., Marge Dickinson, Megan Sloan, Mel Foster Co Kewanee, Sweet Annie Primitives, Trademark Vacations, Galva Schools, Country Financial, Galva Florist, Galva Masonic Lodge #243, Gustafson Ford, Jeff Hatch, Mike Kirley, Porter Hay Insurance, and Tri-County Eye Care.
Help Win $20,000 for Galva Parks...
The National Recreation and Park Association is offering an opportunity to win a $20,000 grant for our community parks and we need your votes to make it happen!
Go to meetmeatthepark.org
Register to vote
Enter "Galva, IL USA" in the nomination box
Hit Submit
Vote once per day in April and please share this with your friends!
Upcoming Coffee House Concerts...
April 14th: Daniel Watkins
All coffeehouses start at 7pm and are free to the public, though donations are accepted and greatly appreciated. An open mic generally follows the main performer and light refreshments are provided.
Annual iServe Returns...
On June 9th and June 10th, the Neighbors in Christ Parish of United Methodist Churches will hold their annual iServe event in service to God and the community.
Saturday, June 9th is our day of service to the wider community. Anyone in the Galva or Bishop Hill area can ask for assistance in completing projects they cannot do on their own. Volunteers will provide free help with yard work, painting, building repair, household cleanup and simple errands. Nonprofit organizations can also receive assistance with projects on their property. Some financial help is available to purchase supplies for projects.
Anyone who wishes to have a project completed by the iServe volunteers will need to complete an iServe Application. They are available at Galva City Hall, the Library, Galva Senior Citizens Center, the banks, Lincoln House, the post office, the laundromat, Bishop Hill Community United Methodist Church, Galva First United Methodist Church, Grace United Methodist Church, Congregational Church, Messiah Lutheran Church, and St. John Catholic Church.
Applications can be downloaded from the city of Galva's website at www.galvail.gov through April 28th. Your application must be returned to the parish office at 214 NW 2nd Avenue in Galva by April 28th. Once the Application has been processed, persons organizing work teams will be in contact to get more details on the work to be done and to visit the work site to confirm that volunteers will be able to complete the work requested. We also welcome anyone who wishes to volunteer time to serve neighbors in our community.
The planning team will organize work teams in early May. To volunteer, simply contact the parish office at 932-2460.
View The Official Brochure by clicking on the Icon below:
Passen to Perform...
Chicago-based singer and hammered dulcimer player Phil Passen will have a concert in Bishop Hill, using songs to tell the story of the growth and development of Illinois. This musical performance will start at 1:30 p.m. in the Dairy Building on Saturday, April 14.
The music in this concert reflects the story of Illinois, which has been shaped not only by its land and natural features - the prairies, lakes, and rivers - but also by the many cultures that have flourished here: those of Native Americans, French, Germans, African Americans, Latin Americans, and numerous others.
This program is free and open to the public due to the sponsorships of the Bishop Hill Heritage Association and the Illinois Humanities Council Road Scholar Speakers Bureau.
The Dairy Building is located at 410 North Erickson Street. For more details about this concert, please call 309 927-3899 or email bhha@mymctc.net.
The current edition of the Illinois Humanities Road Scholars Speakers Bureau, presented in cooperation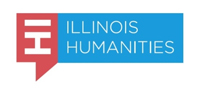 with the Illinois Bicentennial Commission and the Abraham Lincoln Presidential Library and Museum, consists of presentations exploring Illinois history and culture in recognition of the state's 200th anniversary.
Mr. Passen will begin with a melody from a Native American tribe indigenous to Illinois. His concert will feature songs and tunes representing various ethnic communities that have contributed to life in Illinois. Songs of the Underground Railroad, which ran through Illinois, will also be featured. So will music selections representing farmers, workers, labor struggles, disasters, and tragedies, as well as a few blues and rock-and-roll songs. Mr. Passen will provide commentary about the histories of the selections and the contexts in which they have been sung and played in Illinois.
American Legion May Event:
The Galva American Legion will be holding a community breakfast at the Galva Legion Building located at 45 Wallace Street on 13 May, 2018 from 7:00 a.m. until 1:00 p.m. They will be serving all you can eat pancakes, sausage, bacon, eggs, biscuits and gravy, coffee, milk and orange juice.Pop and bottled water are available for an extra charge.A donation of $6.00 is appreciated.
Visit the Gallery for photos from our recent Veteran's Day Celebration.
Toy Tractor & Collector's Weekend...
On April 7 and 8, the BHHA will be hosting not only the Toy Tractor Weekend but Collectors Weekend as well.
Yes, we are moving our fall Collectors Weekend to the springtime!
Toy tractors and farm implements of all shapes, sizes, and brands, will be exhibited on the first floor of the Steeple Building Museum, as well as other collections, such as patent medicine, circus memorabilia, and much more!
Local toy tractor collectors Richard Carlson and Lloyd Anderson will be returning this year. All these treasures from individuals' private collections will be on display for just one weekend from 10 a.m. to 5 p.m. on Saturday and from 11 a.m. to 4 p.m. on Sunday. See unique artifacts that you may never be able to view again! These displayed items are not for sale.
The Steeple Building Museum is located at 103 North Bishop Hill Street in Bishop Hill, IL. Call (309) 927-3899 or email bhha@mymctc.net or check out www.bishophillheritage.org for more details. View our new Bishop Hill Heritage Association Facebook page (@bhheritageassociation) for more information about this event and others.
"Young Buffalo" Ad Billboard From 1911
Tractors On Parade (Being Escorted By A Tank)
Winners Announced...
On Wednesday, March 14th, entrepreneurs competed in the 6 County Fast Pitch Contest vying for cash and prizes to help turn their idea into a new or expanding business in the counties of Henderson, Henry, Knox, Mercer, Stark and Warren Counties in Illinois.
The 20 entrepreneurs presented their ideas to a panel of judges during confidential, individual, 10 minute "fast pitch" sessions.
They competed in three different categories: Existing Business Expansion, Manufacturing/Fabrication and Retail/Service.
At 2pm the winners were announced during an awards ceremony at the Alpha United Methodist Church. The grand prize winner in each category was awarded $2,500 cash, up to $35,000 in media advertising donated by Regional Media, Gatehouse, Galesburg Radio, and WRMJ radio; $1,800 marketing consultation donated by Dave Dunn's Masters Educational Services; up to 8 hours of customer service training from University of Illinois Extension, a $500 Scholarship to related coursework at either Carl Sandburg College, Blackhawk College, or Blackhawk East from their Foundations, accounting services donated by Thomas L. Irons, EA Accounting Systems, Inc, and continued consultation and support from Western Illinois University's Small Business Development Center.
The 3 grand prize winners were:
Manufacturing/Fabrication/Distribution – Andrea Konie for her business Dinners On Me. Her business is based out of Cambridge in Henry County.
Existing Business Expansion – Linda Putnam for her business Linda's Salsa. Her business is based out of Monmouth in Warren County.
Retail/Services – Shawn Kendall – Trademark Vacations for his potential business. His business is based out of Galva in Henry County.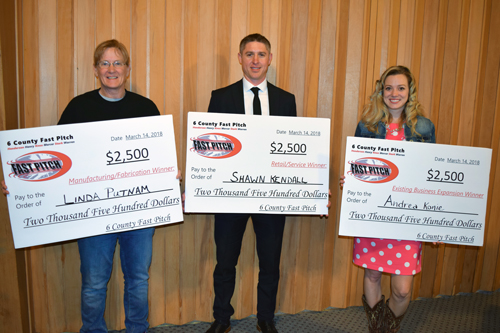 "The goal of this contest is to identify local entrepreneurs and help provide them the support they need to succeed." said Russell Medley, Community and Economic Development Educator from University of Illinois Extension who has been on the Fast Pitch committee since 2011. He added "The vast majority of jobs in the US are started by small business. We wanted to provide an opportunity for entrepreneurs in our 6 county region to achieve success and hopefully, in the long run, to spur the creation or growth of a business and jobs in our local communities."
A panel of 9 judges listened to the contestants give their pitches and determined the winner. Judges included: Gary Camarano, Director of the Whiteside County Economic Development Department, Annette Ernst, Village Administrator, Coal Valley, IL, Kevin Evans, Director- Illinois Small Business Development Center at Bradley University, Julie Forsythe, Vice President, Entrepreneurship and Innovation, Quad Cities Chamber of Commerce, Salvador "Sal" Garza, Manager, Illinois Department of Commerce and Economic Opportunity in the Office of Regional Economic Development, Galesburg, IL, Anne Heinze Silvis Assistant Dean and Program Leader, Community and Economic Development, University of Illinois Extension, Janice McCoy, County Director, University of Illinois Extension, Carroll, Lee and Whiteside Counties, Sean Park, Program Manager for Value Added Sustainable Development Center, Illinois Cooperative Development Center, Illinois Wind Access Center and Business Advisor for the Small Business Development Center at Western Illinois University, and Keith Williams, Coordinator of Business Programs, and Instructor of Economics and Business Administration at Carl Sandburg College.
The 2018 prize sponsors of the 6 County Fast Pitch included: Accounting Systems, Inc., Black Hawk College East Foundation, Black Hawk College Quad Cities Foundation, Carl Sandburg College Foundation, City of Galva, First Mid-Illinois Bank & Trust, Galesburg Radio, Gatehouse Media, Masters Educational Services, Office Specialists, Inc., Regional Media, University of Illinois Extension, Western Illinois University's Small Business Development Center, and WRMJ Radio.
Organizations who planned the event included: City of Aledo, City of Galva, Carl Sandburg College, First Mid-Illinois Bank & Trust, Galesburg Chamber of Commerce, Illinois Small Business Development Center at Western Illinois University, Kewanee Economic Development Corporation, Knox County Partnership for Economic Development, Mercer County Better Together, University of Illinois Extension, and Western Illinois Works, Inc.
Galva Arts Council WINS Concert Series...
Thank You! On January 2nd, the Galva Arts Council found out that we are one of 15 recipients of the Levitt Foundation's Amp Matching Grant. This grant will match up to $25,000 in funds to put on our summer concert series.
Other cities receiving the grant include: Berea, KY; Carson City, NV; Chattanooga, TN; Escondido, CA; Middlesboro, KY; Ocala, FL; Santa Fe, NM; Sheboygan, WI; St. Johnsbury, VT; Stevens Point, WI; Trenton, NJ; Utica, NY; Whitesburg, KY; and Woonsocket, RI. Out of these winners, 11 out of the 15 were previous recipients of the grant. The winners were displayed on an electronic billboard in Times Square in New York City!
Donate today!
With the Levitt Grant, every $1 donated, turns into $2 of programming. We have donation buttons on our website and Facebook as well as jars at Delta on the Square, Crescent City Tap, and Galva Pharmacy. You may also mail donations.
Interested in being a sponsor of the Levitt concert series? You can view the details here.
Volunteers and Partners Needed:
We are always looking for help with events throughout the year. If you would like to help, speak with a board member or email galvaarts@gmail.com.
Delta Date Night:
Delta on the Square is hosting a special fundraiser dinner for the Galva Arts Council before our Coffeehouse on February 10th.
Dinner will be served from 4:30-7 and feature a special menu and entertainment from Chris Stevens.
A portion of the proceeds will go towards our summer concert series.
After dinner, walk across the street to enjoy Sarah and the Underground at our February Coffeehouse, starting at 7pm, followed by a question and answer session about the summer concert series.
Upcoming Coffeehouse Concerts:
Click on the artist link to preview their music:
All coffeehouses start at 7pm and are free to the public, though donations are accepted.
For February and April, an open mic will follows the main performer.
Summer Concert Series Dates Set:
The Levitt AMP concert series will be every Sunday from May 27th through August 5th, excluding July 1st as we will be hosting our annual John Sloan memorial coffeehouse July 3rd.
Logo Design Contest:
Our new concert series needs a logo and we need your help! Submit a design to galvaarts@gmail.com by February 5th. We will hold a public vote during our February 10th coffeehouse. The creator of the winning design will receive a t-shirt featuring their design, VIP seating for the whole series and a picnic backpack.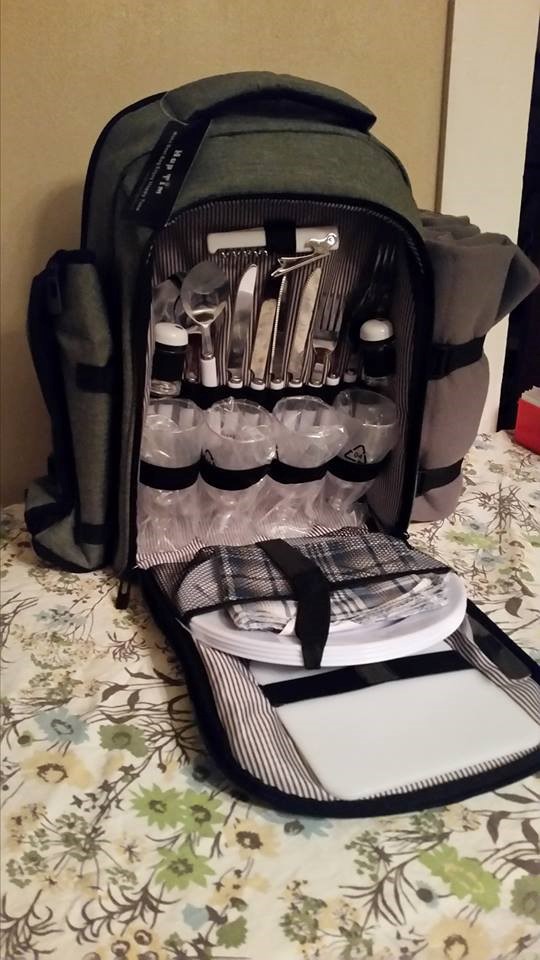 Our mailing address is: Galva Arts Council PO Box 29 Galva, Il 61434
Machinery Pete Comes to Galva...
Jerry and Connie Kuster give Machinery Pete a tour of their International Harvester (and more) collection.