Welcome to our site

American Legion Announces August Events:
The Galva American Legion will be holding a community breakfast at the Galva Legion Building located at 45 Wallace Street on 10 September, 2017 from 7:00 a.m. until 1:00 p.m. They will be serving all you can eat pancakes, sausage, bacon, eggs, biscuits and gravy, coffee, milk and orange juice.Pop and bottled water are available for an extra charge.A donation of $6.00 is appreciated.
A Few Photos From the Galva Car Show...
Click any image to view it. Look for the "play" button in the upper right hand corner of your screen to start the slideshow feature (tip: you will find only a close button on the image itself, the play and pause controls will be off the image in the upper right hand corner of your screen).
For more Car Show photos, visit our Gallery.
Galva Masonic Lodge Holds 10th Annual Golf Outing...
The Galva Masonic Lodge will be holding their 10th annual golf outing on 16 September at Kewanee Dunes Golf Club. Proceeds from the event will be used to provide a scholarship benefitting a Galva High School Student.
click on the image below for a printable copy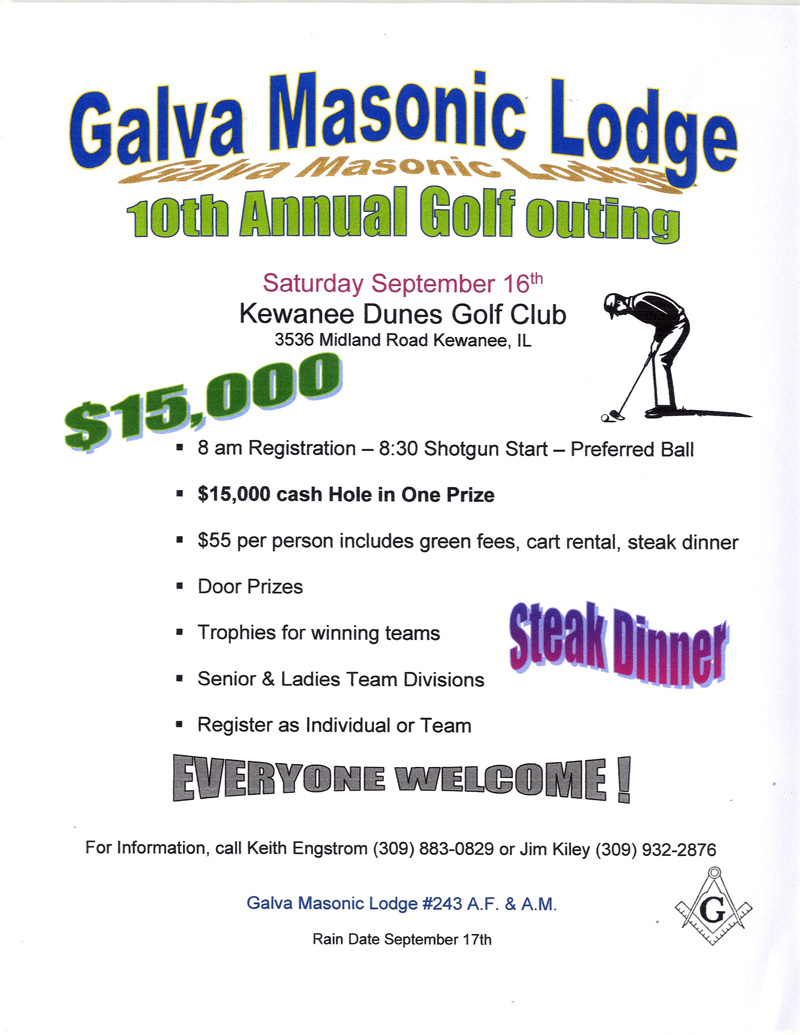 Machinery Pete Comes to Galva...
Jerry and Connie Kuster give Machinery Pete a tour of their International Harvester (and more) collection.