Welcome to our site

Galva FUMC Announces iServe...
On June 10th and June 11th, the Neighbors in Christ Parish of United Methodist Churches will hold their annual iServe event in service to God and the community.
Saturday, June 10th is our day of service to the wider community.
Anyone in the Galva or Bishop Hill area can ask for assistance in completing projects they cannot do on their own.
Volunteers will provide free help with yard work, painting, building repair, household cleanup and simple errands.
Nonprofit organizations can also receive assistance with projects on their property.
Some financial help is available to purchase supplies for projects.
Anyone who wishes to have a project completed by the iServe volunteers will need to complete an iServe Application. They are available at Galva City Hall, the Library, Senior Citizens Center, the banks, Lincoln House, the post office, the laundromat, Bishop Hill Community United Methodist Church, Galva First United Methodist Church, Grace United Methodist Church, Congregational Church, Messiah Lutheran Church, St. John Catholic Church.
Your application must be returned to the parish office at 214 NW 2nd Avenue in Galva or sent electronically to galvafirst@frontier.com by April 29th.
Once the Application has been processed, persons organizing work teams will be in contact to get more details on the work to be done and to visit the work site to confirm that volunteers will be able to complete the work requested. The planning team will organize work teams in early May. To volunteer, simply contact the parish office at 932-2460 or the email listed above.
On Sunday, June 11th, there will be fellowship time with refreshments beginning at 9:30 a.m. at First United Methodist Church. Worship will begin at 10 a.m. After worship, everyone is welcome to stay for a free cookout meal and sundae bar. All are welcome to be part of this time celebrating God's love for us and our call to serve one another in love.
Memorial Day Photos...
American Legion Announces June Events:
The Galva American Legion will be holding a community breakfast at the Galva Legion Building located at 45 Wallace Street on 11 June, 2017 from 7:00 a.m. until 1:00 p.m. They will be serving all you can eat pancakes, sausage, bacon, eggs, biscuits and gravy, coffee, milk and orange juice.Pop and bottled water are available for an extra charge.A donation of $6.00 is appreciated.
Bishop Hill Announces Kite Show...
On Saturday May 20th, kites of all shapes and sizes will be soaring in the skies over historic Bishop Hill.
From 10 a.m. to 3 p.m. approximately a dozen kites, some over 40 feet long, will be flying over the Summer Cottage, located at 507 Lindstrom Street in the northeast corner of Bishop Hill.
Tony and Ann Killip, from Wataga, IL, are the proud owners of these kites and have participated in twelve or more kite festivals each year.
This kite show is free and open to public, courtesy of the Summer Cottage and Our Kites Fly.
The rain date will be Sunday May 21.
The types of kites flown will depend on the weather conditions.  For more details, call 309 927-3359.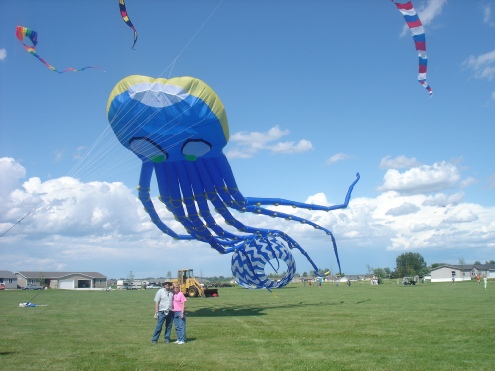 Machinery Pete Comes to Galva...
Jerry and Connie Kuster give Machinery Pete a tour of their International Harvester (and more) collection.
Lutheran Church Announces Dinner and Social...
The Messiah Lutheran Church will be holding its annual Pork Chop Dinner and Ice Cream Social on 3 July, 2017, from 5:00 to 7:00 p.m. in the Wiley Park Pavilion.