Welcome to our site

Support 4H, Win A Yeti Cooler...
Come out and support the 4-H members of Henry County, Illinois as they present their 4-H projects for conference judging during the Henry County Fair in Cambridge, IL. the week of June 18 to June 23rd. General Projects will be on display in the exhibitors hall all week, while livestock, horse and dog showtimes are here.
Be sure to stop by the Henry County 4-H Foundation Food Stand to quench your thirst with a lemonade shakeup or soda, or try one of our many delicious meal deals and cool off with a Whitey's ice cream malt! All proceeds support the program! The Foundation is also raffling off a YETI cooler during the fair - winner will be drawn on June 24th, see details below...
Henry County 4-H Foundation to raffle off a YETI Tundra 65 cooler at this year's Henry County Fair to help raise funds for the county 4-H program.
YETI coolers are known for their quality, durability, and for keeping contents colder for longer. You can buy raffle tickets to for $5 each or 6 for $20 at the Henry/Stark County Extension office, 358 Front Street, Galva, IL 61434 as well as at various events during the Henry County Fair in Cambridge, IL. The drawing will be held on Sunday, June 24 at 1 pm in the 4-H General Projects building at the Henry County Fairgrounds.
Run For The Fallen...
On Saturday, 16 June, Galva was fortunate enough to have the Run For The Fallen pass through our City Limits. Following are a few photos of the Run as it came out of Altona, entered Galva, and exited Galva on its way to the east coast.
Civil War Day Photos Posted...
Click On The Image To View The Gallery
Memorial Day Photos...
This year's Memorial Day service featured Captain Zukauskas, and Sarah Kaiser, the delightful daughter of Mr. & Mrs. Jeff Kaiser, as Little Miss Poppy.
Click On Image To View The Gallery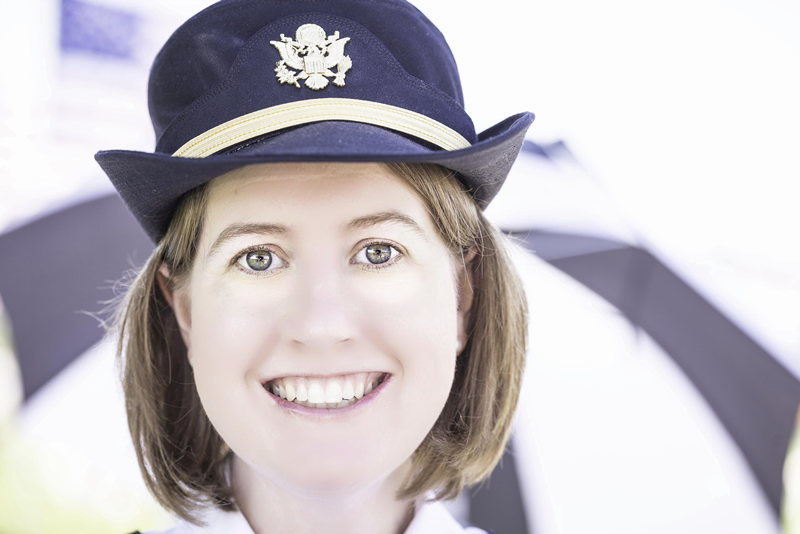 Click On Image To View The Gallery
ESN Award Winners Feted...
ESN Entrepreneurial Eagle Awards were presented in ten different categories during the 9th annual Small Business Day Awards Luncheon at Lake Storey Pavilion in Galesburg. First Mid-Illinois Bank and Trust sponsored the luncheon which celebrated Entrepreneurship in West Central Illinois encompassing Henderson, Henry, Knox, Mercer, Stark and Warren counties.
ESN, together with its current providers and sponsors, Galesburg Area Chamber of Commerce, Knox County Area Partnership of Economic Development, University of Illinois Extension offices in Henderson, Henry, Knox, Mercer, Stark and Warren Counties, Carl Sandburg College, Kewanee Economic Development Corporations and the Workforce Investment Board of Western Illinois, work together to organize Small Business Day each May.
Twenty-seven small businesses (SB) from the six counties were nominated for this year's awards. The ten area entrepreneurs recognized for their accomplishments and receiving awards this year were:
Entrepreneur Lifetime Achievement Award – Susan Lyon – Cornucopia Natural Markets & Deli
Entrepreneur of the Year – Jim Martin – Rhino Tool
SB Success 5-10 years – Dr. Scott Bialobreski – Galva Family Dentistry
SB Success 10+ years – Paul and Leanne Thomas – Blessed by Nature
SB Start Up - Amy Toal – Body Bliss Massage Studio
Young Entrepreneur – Noah Murdock – Midwest Land Solutions
SB Advocate – John and JoAnn Hoschiedt – WRMJ
Women- Owned Business – Cheryl Powell – Personal Touch Salon
Minority Owned Business – Amber Jordan – Koreana Restaurant
125 Year Business Anniversary (125 years) – Ron and Teri Pankau - JH Best Mfg
Music Series Lineup Announced...
Grab some lawn chairs and get ready for a summer full of music in Galva. The Galva Arts Council is excited to announce a very talented lineup for its 10-week Levitt AMP Galva Music Series presented by Regional Media.
Held at Wiley Park in Galva, these Sunday concerts are an opportunity for community members of all ages to enjoy free live music in a picnic-style setting. Special activities and dinners put on by a variety of local organizations in Wiley Park will precede the concerts. Food and beverages will be available for purchase during concerts.
Admission to the concerts is free and attendees are encouraged to invite friends, family, and neighbors for an opportunity to meet new friends and celebrate the summer season.

The 2018 lineup includes the following acts:

There will be a vendor market before the concerts May 27th, June 24th, July 22nd, and August 5th from 1:00PM to 6:00PM at Wiley Park. We are planning on having local organizations serve dinner in the park, from 4:30PM to 6:00PM before each concert.
Above is the winning concert series logo designed by Andrew Carlson, which was chosen by public vote.
The Levitt AMP Galva Music Series presented by Regional Media is made possible by generous community support, including the following major sponsors: Mediacom, City of Galva, Quad City Arts, Illinois Arts Council, Galesburg Community Foundation, Bishop Hill Bakery & Eatery, Twinflower Inn, Community Foundation of Central Illinois, Fallengrund Alpacas, Galva Pharmacy, Michael and Lynne Grant Faller, State Bank of Toulon, Brian "Fox" Ellis, In Memory of Bill Martin Jr., The Back Road Music Festival, Big River Resources, Casey's General Store, Crescent City Tap, Delta on the Square, Dixline, Galva Chamber of Commerce, Hand Taylored Massage, Hathaway's, John H. Best & Sons, Inc., Marge Dickinson, Megan Sloan, Mel Foster Co Kewanee, Sweet Annie Primitives, Trademark Vacations, Galva Schools, Country Financial, Galva Florist, Galva Masonic Lodge #243, Gustafson Ford, Jeff Hatch, Mike Kirley, Porter Hay Insurance, and Tri-County Eye Care.

Annual iServe Returns...
On June 9th and June 10th, the Neighbors in Christ Parish of United Methodist Churches will hold their annual iServe event in service to God and the community.
Saturday, June 9th is our day of service to the wider community. Anyone in the Galva or Bishop Hill area can ask for assistance in completing projects they cannot do on their own. Volunteers will provide free help with yard work, painting, building repair, household cleanup and simple errands. Nonprofit organizations can also receive assistance with projects on their property. Some financial help is available to purchase supplies for projects.
Anyone who wishes to have a project completed by the iServe volunteers will need to complete an iServe Application. They are available at Galva City Hall, the Library, Galva Senior Citizens Center, the banks, Lincoln House, the post office, the laundromat, Bishop Hill Community United Methodist Church, Galva First United Methodist Church, Grace United Methodist Church, Congregational Church, Messiah Lutheran Church, and St. John Catholic Church.
Applications can be downloaded from the city of Galva's website at www.galvail.gov through April 28th. Your application must be returned to the parish office at 214 NW 2nd Avenue in Galva by April 28th. Once the Application has been processed, persons organizing work teams will be in contact to get more details on the work to be done and to visit the work site to confirm that volunteers will be able to complete the work requested. We also welcome anyone who wishes to volunteer time to serve neighbors in our community.
The planning team will organize work teams in early May. To volunteer, simply contact the parish office at 932-2460.
View The Official Brochure by clicking on the Icon below:
American Legion June Event:
The Galva American Legion will be holding a community breakfast at the Galva Legion Building located at 45 Wallace Street on 10 June, 2018 from 7:00 a.m. until 1:00 p.m. They will be serving all you can eat pancakes, sausage, bacon, eggs, biscuits and gravy, coffee, milk and orange juice.Pop and bottled water are available for an extra charge.A donation of $6.00 is appreciated.
Visit the Gallery for photos from our recent Veteran's Day Celebration.
Winners Announced...
On Wednesday, March 14th, entrepreneurs competed in the 6 County Fast Pitch Contest vying for cash and prizes to help turn their idea into a new or expanding business in the counties of Henderson, Henry, Knox, Mercer, Stark and Warren Counties in Illinois.
The 20 entrepreneurs presented their ideas to a panel of judges during confidential, individual, 10 minute "fast pitch" sessions.
They competed in three different categories: Existing Business Expansion, Manufacturing/Fabrication and Retail/Service.
At 2pm the winners were announced during an awards ceremony at the Alpha United Methodist Church. The grand prize winner in each category was awarded $2,500 cash, up to $35,000 in media advertising donated by Regional Media, Gatehouse, Galesburg Radio, and WRMJ radio; $1,800 marketing consultation donated by Dave Dunn's Masters Educational Services; up to 8 hours of customer service training from University of Illinois Extension, a $500 Scholarship to related coursework at either Carl Sandburg College, Blackhawk College, or Blackhawk East from their Foundations, accounting services donated by Thomas L. Irons, EA Accounting Systems, Inc, and continued consultation and support from Western Illinois University's Small Business Development Center.
The 3 grand prize winners were:
Manufacturing/Fabrication/Distribution – Andrea Konie for her business Dinners On Me. Her business is based out of Cambridge in Henry County.
Existing Business Expansion – Linda Putnam for her business Linda's Salsa. Her business is based out of Monmouth in Warren County.
Retail/Services – Shawn Kendall – Trademark Vacations for his potential business. His business is based out of Galva in Henry County.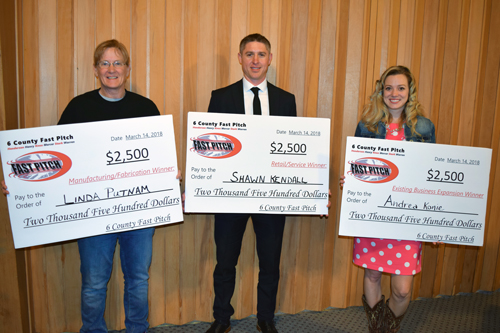 "The goal of this contest is to identify local entrepreneurs and help provide them the support they need to succeed." said Russell Medley, Community and Economic Development Educator from University of Illinois Extension who has been on the Fast Pitch committee since 2011. He added "The vast majority of jobs in the US are started by small business. We wanted to provide an opportunity for entrepreneurs in our 6 county region to achieve success and hopefully, in the long run, to spur the creation or growth of a business and jobs in our local communities."
A panel of 9 judges listened to the contestants give their pitches and determined the winner. Judges included: Gary Camarano, Director of the Whiteside County Economic Development Department, Annette Ernst, Village Administrator, Coal Valley, IL, Kevin Evans, Director- Illinois Small Business Development Center at Bradley University, Julie Forsythe, Vice President, Entrepreneurship and Innovation, Quad Cities Chamber of Commerce, Salvador "Sal" Garza, Manager, Illinois Department of Commerce and Economic Opportunity in the Office of Regional Economic Development, Galesburg, IL, Anne Heinze Silvis Assistant Dean and Program Leader, Community and Economic Development, University of Illinois Extension, Janice McCoy, County Director, University of Illinois Extension, Carroll, Lee and Whiteside Counties, Sean Park, Program Manager for Value Added Sustainable Development Center, Illinois Cooperative Development Center, Illinois Wind Access Center and Business Advisor for the Small Business Development Center at Western Illinois University, and Keith Williams, Coordinator of Business Programs, and Instructor of Economics and Business Administration at Carl Sandburg College.
The 2018 prize sponsors of the 6 County Fast Pitch included: Accounting Systems, Inc., Black Hawk College East Foundation, Black Hawk College Quad Cities Foundation, Carl Sandburg College Foundation, City of Galva, First Mid-Illinois Bank & Trust, Galesburg Radio, Gatehouse Media, Masters Educational Services, Office Specialists, Inc., Regional Media, University of Illinois Extension, Western Illinois University's Small Business Development Center, and WRMJ Radio.
Organizations who planned the event included: City of Aledo, City of Galva, Carl Sandburg College, First Mid-Illinois Bank & Trust, Galesburg Chamber of Commerce, Illinois Small Business Development Center at Western Illinois University, Kewanee Economic Development Corporation, Knox County Partnership for Economic Development, Mercer County Better Together, University of Illinois Extension, and Western Illinois Works, Inc.
Galva Arts Council WINS Concert Series...
Thank You! On January 2nd, the Galva Arts Council found out that we are one of 15 recipients of the Levitt Foundation's Amp Matching Grant. This grant will match up to $25,000 in funds to put on our summer concert series.
Other cities receiving the grant include: Berea, KY; Carson City, NV; Chattanooga, TN; Escondido, CA; Middlesboro, KY; Ocala, FL; Santa Fe, NM; Sheboygan, WI; St. Johnsbury, VT; Stevens Point, WI; Trenton, NJ; Utica, NY; Whitesburg, KY; and Woonsocket, RI. Out of these winners, 11 out of the 15 were previous recipients of the grant. The winners were displayed on an electronic billboard in Times Square in New York City!
Donate today!
With the Levitt Grant, every $1 donated, turns into $2 of programming. We have donation buttons on our website and Facebook as well as jars at Delta on the Square, Crescent City Tap, and Galva Pharmacy. You may also mail donations.
Interested in being a sponsor of the Levitt concert series? You can view the details here.
Volunteers and Partners Needed:
We are always looking for help with events throughout the year. If you would like to help, speak with a board member or email galvaarts@gmail.com.
Our mailing address is: Galva Arts Council PO Box 29 Galva, Il 61434