headlines!
about town!

Galva Freedom Fest Announces Trivia Night...
The Galva Freedom Fest Committee announces TRIVIA NIGHT in Galva.
Persons that can think deep thoughts are requested to attend this inaugural event (O.K., not too deep, it is trivia after all).
Put together your eight man team and be ready to go form 7:00 - 9:00 p.m., Saturday, March 29th at the Galva American Legion Hall located at 45 Wallace Street.
Prizes will be awarded.
Fun games will take place between rounds.
Alcohol will be serviced, please bring your own snacks and soda pop.
Net proceeds will go to benefit the Fourth of July celebration held each year in Galva. You know, the one that ends in the spectacular fire works display held at the Galva Park District.
So click on the sign up sheet icon below for a printable copy of the entry form and start getting your closet Einsteins and Hawkings together for a fun night of trivia.
Wanted! Entrepreneurs in Henry and Stark Counties...
Enter the Henry & Stark Counties Fast Pitch Competition to WIN Cash and Prizes that can help you launch your Big Idea to Start or Expand a business!
If you have the "Big Idea" for a new or improved business, an idea on how to expand or grow your existing business, or a new invention or product that can be produced in Henry or Stark Counties; and
You would like to win cash, prizes, marketing, and other resources to help take your idea from concept to market; and
You would like the advice and help of experienced leaders from manufacturing, technology, patents, marketing, engineering and more; then
You should enter this year's Fast Pitch contest and enter it today!
Watch Paula Sands Live interview Jenny Garner about the competition:
Learn more about Lu Ann and Lu Ann Specialties as seen on the Paula Sands Live show by visiting her Facebook page and Website.
Register for one of two Informational Meetings on line or call one of the following:
Judith Gilbert, Colona Economic Development (309) 792 - 0571
Russell Medley, Kewanee Economic Development (309) 853 - 5000
Put these important Informational Meeting dates in your calendar:
A practice session will be held at Werner Restoration Services on March 11th and another in Kewanee on March 20th.
For selected participants, the head-to-head competition will be held on April 24th at the Community Education Center in Kewanee.
Does this stuff work?
In its first two years, the Henry- Stark Counties Fast Pitch competition opened doors to 42 budding and seasoned entrepreneurs who shared their concepts for the chance to win resources to develop their ideas into thriving businesses.
We have distributed over $22,000 in cash and over $50,000 of in-kind prizes to the winners!
Thanks to our sponsors, Fast-Pitch Results are impressive:
11 Businesses Received Business Consultation
9 New Start-ups Were Initiated
3 Business Loans were Obtained
10 JOBS were created or retained
One Received their Small Business Certificate.
If you would like to become a sponsor, simply download the sponsor packet or give Dave Dyer a call at (309) 932 - 2555.
Download the official press release
Social Media Webinars Announced...
The Galva Area Chamber of Commerce, in conjunction with the Colona Chamber, Geneseo Chamber, Kewanee Economic Development Corporation, Stark County Economic Development and the University of Illinois Extension, announces that on-line courses designed to help you navigate and learn social media for your business have been scheduled.
Using Social Media tools like Facebook, Twitter and Blogging can help you reach the right people for your business and affirm your brand through cost-effective, user-friendly forms of direct communication!
Through a series of on-line classes, social media consultant Shuva Rahim will share ways to help you take advantage of the technology available to you.
Choose the topics that interest you, one or all! Let Shuva help you gain the skills you need to compete in today's social-media driven business environment.
Friday, March 7 Facebook Business Page Basics. Learn the step-by-step process of setting up a Facebook page for your business so clients can start following you. You'll also be introduced to some basic challenges to help you think of ways you can stand out in your industry.
Friday, March 14 Beyond the Basics. Now that you have a Facebook business page learn about how to best utilize it. Get ideas on ways you can increase your page traffic, get more likes and comments, and interact with potential customers.
Friday, March 22 Introduction to Twitter. Twitter is a unique tool that allows you to see what your customers and colleagues in the industry are doing, and connect with them publicly. Learn how Twitter can transform how you work and create positive relationships that build strong businesses.
Friday, March 28 Blogging for Business. Having a blog is a great way to communicate with people who are or may be interested in what you do. This class will offer you basic tools to develop ideas on what to write, how to write it and how to get people to read it.
All Webinars will take place from noon until 1:00 p.m.
Once registered, you will receive a link to take the course on-line from your own computer with Internet access.
Chamber members receive complimentary registration and may register on-line through U of I Extension at https://webs.extension.uiuc.edu/registration/?RegistrationID=9545
Non-members should call your area Chamber to register: (309) 932 - 2555
View and download the Official Brochure and the Webinar Instruction Sheet
The Galva Arts Council Announces Spring In Bloom...
The Galva Arts Council encourages you to Think Spring as it announces that Spring in Bloom will blossom on 10 May, 2014.
Spring in Bloom features spring craft items created by volunteers to benefit Arts Council programs.
From birdhouses to spring wreaths, these unique items will be raffled off at the Spring in Bloom luncheon held on the 10th of May in the Galva Arts Council Building located at 128 N. Exchange Street in downtown Galva.
Lunch will be served from 11:00 a.m. until 1:00 p.m.
The winners will be drawn at 12:30 p.m.
Tickets for the raffle are $1.00 each or 6 for $5.00.
Items may be viewed and raffle tickets purchased during the following times at the Arts Council Building:
12 April from 11:00 a.m. until 1:00 p.m.
12 April during the Coffee house from 7:00 p.m. until 9:00 p.m.
3 May during the Artist's Market event; and
Last minute tickets may be purchased during the Spring in Bloom Luncheon on 10 May
Artists wishing to support the Arts Council may pick up items to be decorated on the following days and times:
22 February from 11:00 a.m. until 1:00 p.m.
8 March from 11:00 a.m. until 1:00 p.m.; or
During the March Coffee house from 7:00 p.m. until 9:00 p.m.
Artists should drop their completed items off at the Arts Council building on 29 March from 11:00 a.m. until 1:00 p.m.
View and Print the Galva Arts Council Spring in Bloom Brochure
The following items are from previous Spring in Bloom events as pictured in the official brochure. All photographs courtesy of Nancy Anderson.
Margo McCurdy's Birdhouse
Pansies await transplanting at the home of the winner
A patchwork rag wreath created by Bev Fisher
Spring Flower Hat created by Linda Simmons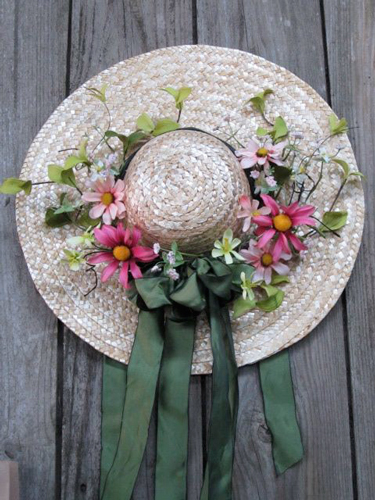 This whimsical birdhouse was created by Megan Nordstrom
Michelle Cheline created this vase of flowers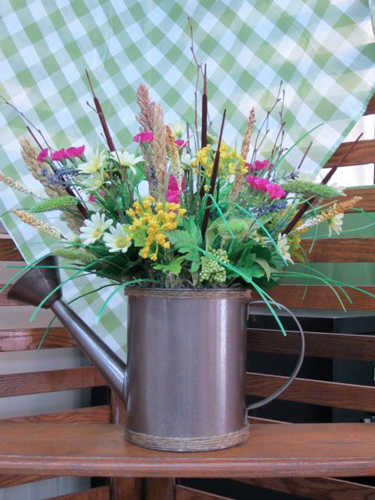 Visit the Galva Arts Council Website, and do not forget to like them on Facebook.
The Galva American Legion Announces Two Events...
The Galva American Legion will be hosting a community breakfast on 9 March from 7:00 a.m. until 1:00 p.m... They will be serving biscuits and gravy, scrambled eggs, sausage, bacon, pancakes, coffee and orange juice all for a donation of just $6.00.
Additionally, the Legion has announced a CORNED BEEF AND CABBAGE SUPPER for 16 March with all you can eat corned beef, cabbage, deserts, salads, coffee, lemonade and milk. Pop and Alcohol will be available at extra cost. Serving starts at 5:00 p.m. and will end at 8:00 p.m. Cost is $8:00 for adults and $5:00 for children under 10 years of age.
Both events (breakfast and supper) will be held at the Galva American Legion Building Post #45 located at 45 Wallace Street in Galva.
contact us!