Welcome to our site

Midsommar Music Festival Returns...
Bishop Hill's Midsommar Music Festival will return Saturday, June 24th with a strong line-up of musical performers. Highlights of this all-day event include Main Stage performances, a Swedish Maypole celebration, and an Old-Fashioned Barn Dance.
The free Main Stage performances in the village park gazebo will begin at 11:30 a.m. and end at 4 p.m.
This year's lineup includes Jazz on the Side, Hammer & Pick, Zak and Erin, and Black Hawk Pipes and Drums.
Immediately following the Main Stage performances, everyone is invited to decorate the Maypole with flowers and to join the procession. Accordionist Ernie Sandquist will lead the Maypole procession. It will begin in the park and end at the Colony School where visitors can join in the Maypole dancing and have refreshments provided by the Bishop Hill Vasa Lodge.
Later that evening, there will be a barn dance at the Colony School with The Rusty Pickup String Band and caller Gail Hintze. Admission to the barn dance is $5 per person.
The Bishop Hill Heritage Association will also be having its 2nd annual Rubarber Fundraiser. The BHHA will be serving homemade rhubarb baked goods, with coffee and lemonade, at the Steeple Building Museum front porch from 11 a.m. to 4 p.m. Proceeds from this fundraiser will be used to support BHHA activities.
The Vasa National Archives, a short block from the park, will be offering a Midsummer Respite featuring a Kool-aid and cookie fika and a make and take clay station. The public is welcome to enjoy exhibits, get some light refreshments, and make a clay sculpture to take home. The Vasa National Archives will be open from 10-4 on June 24.
The Midsommar Music Festival is sponsored by the Bishop Hill Arts Council, co-sponsored by the Bishop Hill Heritage Association, Bishop Hill State Historic Site, Bishop Hill Old Settler's Association, Bishop Hill Vasa Lodge #683, and area businesses. Partial funding provided by the Barbro Osher Pro Suecia Foundation. For directions and more info, visit www.bishophill.com, call 309-927-3899, or email bhha@mymctc.net.
11:30 Black Hawk Pipes & Drums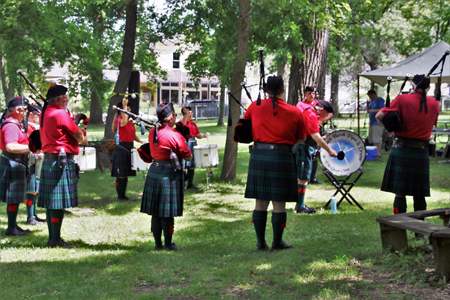 1:00 Hammer & Pick
2:00 Jazz On The Side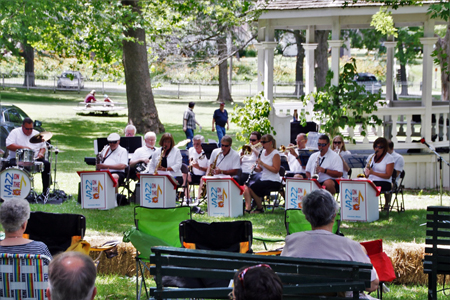 3:00 Zak & Erin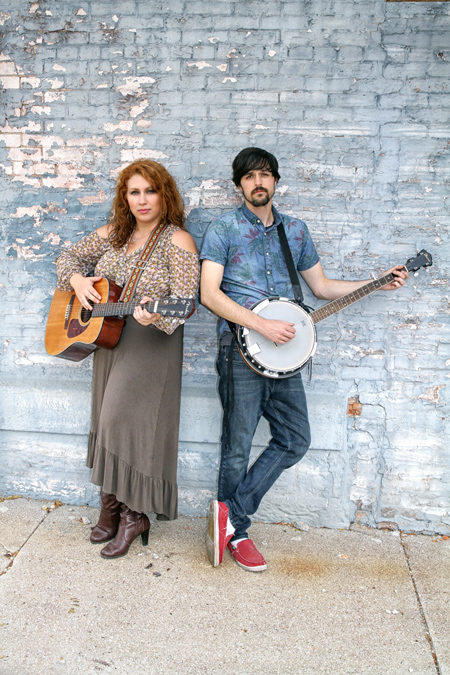 4:00 Maypole Dressing Begins
Honor Flight Benefit...
Honor Flight returns to Bishop Hill Sunday, June 11th, 3-6 p.m. with the community raising funds to send area veterans to Washington, D.C.  Fortunate veterans who are chosen will visit memorials dedicated to honoring their sacrifices.
In the last seven years, the community has raised more than $80,000 for the Quad Cities Chapter of the Honor Flight Network.  Area veterans will be provided with a free trip to visit their memorial with priority given to survivors of World War II, Korean War, and any veteran with a terminal illness.  Honor Flight Quad Cities operates on donations from organizations and individuals.  Representatives from the Honor Flight organization will be there to answer questions and to accept applications.
The schedule begins with the Barbecue Rib dinner at 3 p.m. in the village park.  Also, at 3 p.m., motorcycle riders can join up with the Illinois Patriot Guard and Legion Riders at the Galva American Legion and help them escort the flag to Bishop Hill.  At 3:30 pm, the Illinois Patriot Guard and Legion Riders and other motorcyclists will arrive; at 4 pm, there will be an Invocation and then the Presentation of Colors by area VFW and American Legion groups.  There will be several speakers, including Representative Dan Swanson from the 74th District and Terry Shields, Honor Flight participant. Shelley Kinzer of Bishop Hill will be providing patriotic music.  Live auction provided by Stenzel Auction Service.  Auction items include official Cardinal, White Sox, and Chicago Cubs flags, toy tractors from local dealers, gift baskets, as well as locally made quilts, pottery, pies, and other items.  Regional Media will also be giving away tickets to the Backroad Music Festival.  There will be a military retreat at 1800 hours exactly (6 pm) with a 21-gun salute and taps.  Golf cart shuttle services, provided by Cambridge Cart, are provided from the edge of the park.  For more information, call 309 927-3355 or 507-3801.
The benefit is being organized by the Filling Station Restaurant. All proceeds from the day's events will be donated to Honor Flight of the Quad Cities. If anyone wishes to make a donation, volunteer, or need more information call the above number.
Legion Riders Enter Bishop Hill
Honor Guard Marches Into Village Park
Barbeque Served In The Park
Gypsy Coeds Program In Bishop Hill...
On Saturday June 10th, author John Butte will present a program about his book, Darlene's Silver Streak and the Bradford Model T Girls.  The book is about the travels of the Gypsy Coeds in their Model T.   The Silver Streak Model T automobile used by the Gypsies will be on display at the Dairy Building, located at 410 North Erickson, from 1:30 to 2:30 p.m., with the program and book signing to follow.  The program is free and open to the public.  It is hosted by the Bishop Hill Heritage Association.  For more details, call 309 927-3899 or email bhha@mymctc.net.
The Gypsy Coeds made eight major trips between 1936 and 1942.  Led by Darlene Dorgan, whose family ran the Dorgan Cafe in Bradford for nearly 50 years, a rotating group of 20 young Bradford area women traveled to 44 states, Mexico, and Canada in a 1926 Ford Model T, nicknamed the Silver Streak.  The Gypsy Coeds even had a long correspondence with Ford Motor Co. founder Henry Ford.  Ford called the Gypsies his "Model T Girls."



Download the official brochure.
Visit the Silver Streak Website.
Memorial Day Photos...
Click any image to view. Look for the "play" button in the upper right hand corner of your screen to start the slideshow feature.
American Legion Announces July Events:
The Galva American Legion will be holding a community breakfast at the Galva Legion Building located at 45 Wallace Street on 9 June, 2017 from 7:00 a.m. until 1:00 p.m. They will be serving all you can eat pancakes, sausage, bacon, eggs, biscuits and gravy, coffee, milk and orange juice.Pop and bottled water are available for an extra charge.A donation of $6.00 is appreciated.
Machinery Pete Comes to Galva...
Jerry and Connie Kuster give Machinery Pete a tour of their International Harvester (and more) collection.
Lutheran Church Announces Dinner and Social...
The Messiah Lutheran Church will be holding its annual Pork Chop Dinner and Ice Cream Social on 3 July, 2017, from 5:00 to 7:00 p.m. in the Wiley Park Pavilion.