Welcome to our site

Winners Announced...
On Wednesday, March 14th, entrepreneurs competed in the 6 County Fast Pitch Contest vying for cash and prizes to help turn their idea into a new or expanding business in the counties of Henderson, Henry, Knox, Mercer, Stark and Warren Counties in Illinois.
The 20 entrepreneurs presented their ideas to a panel of judges during confidential, individual, 10 minute "fast pitch" sessions.
They competed in three different categories: Existing Business Expansion, Manufacturing/Fabrication and Retail/Service.
At 2pm the winners were announced during an awards ceremony at the Alpha United Methodist Church. The grand prize winner in each category was awarded $2,500 cash, up to $35,000 in media advertising donated by Regional Media, Gatehouse, Galesburg Radio, and WRMJ radio; $1,800 marketing consultation donated by Dave Dunn's Masters Educational Services; up to 8 hours of customer service training from University of Illinois Extension, a $500 Scholarship to related coursework at either Carl Sandburg College, Blackhawk College, or Blackhawk East from their Foundations, accounting services donated by Thomas L. Irons, EA Accounting Systems, Inc, and continued consultation and support from Western Illinois University's Small Business Development Center.
The 3 grand prize winners were:
Manufacturing/Fabrication/Distribution – Andrea Konie for her business Dinners On Me. Her business is based out of Cambridge in Henry County.
Existing Business Expansion – Linda Putnam for her business Linda's Salsa. Her business is based out of Monmouth in Warren County.
Retail/Services – Shawn Kendall – Trademark Vacations for his potential business. His business is based out of Galva in Henry County.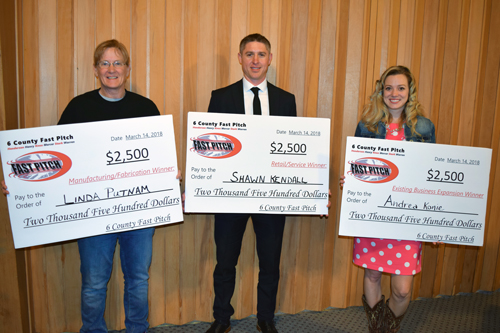 "The goal of this contest is to identify local entrepreneurs and help provide them the support they need to succeed." said Russell Medley, Community and Economic Development Educator from University of Illinois Extension who has been on the Fast Pitch committee since 2011. He added "The vast majority of jobs in the US are started by small business. We wanted to provide an opportunity for entrepreneurs in our 6 county region to achieve success and hopefully, in the long run, to spur the creation or growth of a business and jobs in our local communities."
A panel of 9 judges listened to the contestants give their pitches and determined the winner. Judges included: Gary Camarano, Director of the Whiteside County Economic Development Department, Annette Ernst, Village Administrator, Coal Valley, IL, Kevin Evans, Director- Illinois Small Business Development Center at Bradley University, Julie Forsythe, Vice President, Entrepreneurship and Innovation, Quad Cities Chamber of Commerce, Salvador "Sal" Garza, Manager, Illinois Department of Commerce and Economic Opportunity in the Office of Regional Economic Development, Galesburg, IL, Anne Heinze Silvis Assistant Dean and Program Leader, Community and Economic Development, University of Illinois Extension, Janice McCoy, County Director, University of Illinois Extension, Carroll, Lee and Whiteside Counties, Sean Park, Program Manager for Value Added Sustainable Development Center, Illinois Cooperative Development Center, Illinois Wind Access Center and Business Advisor for the Small Business Development Center at Western Illinois University, and Keith Williams, Coordinator of Business Programs, and Instructor of Economics and Business Administration at Carl Sandburg College.
The 2018 prize sponsors of the 6 County Fast Pitch included: Accounting Systems, Inc., Black Hawk College East Foundation, Black Hawk College Quad Cities Foundation, Carl Sandburg College Foundation, City of Galva, First Mid-Illinois Bank & Trust, Galesburg Radio, Gatehouse Media, Masters Educational Services, Office Specialists, Inc., Regional Media, University of Illinois Extension, Western Illinois University's Small Business Development Center, and WRMJ Radio.
Organizations who planned the event included: City of Aledo, City of Galva, Carl Sandburg College, First Mid-Illinois Bank & Trust, Galesburg Chamber of Commerce, Illinois Small Business Development Center at Western Illinois University, Kewanee Economic Development Corporation, Knox County Partnership for Economic Development, Mercer County Better Together, University of Illinois Extension, and Western Illinois Works, Inc.
American Legion April Event:
The Galva American Legion will be holding a community breakfast at the Galva Legion Building located at 45 Wallace Street on 8 April, 2018 from 7:00 a.m. until 1:00 p.m. They will be serving all you can eat pancakes, sausage, bacon, eggs, biscuits and gravy, coffee, milk and orange juice.Pop and bottled water are available for an extra charge.A donation of $6.00 is appreciated.
Visit the Gallery for photos from our recent Veteran's Day Celebration.
Galva Arts Council WINS Concert Series...
Thank You! On January 2nd, the Galva Arts Council found out that we are one of 15 recipients of the Levitt Foundation's Amp Matching Grant. This grant will match up to $25,000 in funds to put on our summer concert series.
Other cities receiving the grant include: Berea, KY; Carson City, NV; Chattanooga, TN; Escondido, CA; Middlesboro, KY; Ocala, FL; Santa Fe, NM; Sheboygan, WI; St. Johnsbury, VT; Stevens Point, WI; Trenton, NJ; Utica, NY; Whitesburg, KY; and Woonsocket, RI. Out of these winners, 11 out of the 15 were previous recipients of the grant. The winners were displayed on an electronic billboard in Times Square in New York City!
Donate today!
With the Levitt Grant, every $1 donated, turns into $2 of programming. We have donation buttons on our website and Facebook as well as jars at Delta on the Square, Crescent City Tap, and Galva Pharmacy. You may also mail donations.
Interested in being a sponsor of the Levitt concert series? You can view the details here.
Volunteers and Partners Needed:
We are always looking for help with events throughout the year. If you would like to help, speak with a board member or email galvaarts@gmail.com.
Delta Date Night:
Delta on the Square is hosting a special fundraiser dinner for the Galva Arts Council before our Coffeehouse on February 10th.
Dinner will be served from 4:30-7 and feature a special menu and entertainment from Chris Stevens.
A portion of the proceeds will go towards our summer concert series.
After dinner, walk across the street to enjoy Sarah and the Underground at our February Coffeehouse, starting at 7pm, followed by a question and answer session about the summer concert series.
Upcoming Coffeehouse Concerts:
Click on the artist link to preview their music:
All coffeehouses start at 7pm and are free to the public, though donations are accepted.
For February and April, an open mic will follows the main performer.
Summer Concert Series Dates Set:
The Levitt AMP concert series will be every Sunday from May 27th through August 5th, excluding July 1st as we will be hosting our annual John Sloan memorial coffeehouse July 3rd.
Logo Design Contest:
Our new concert series needs a logo and we need your help! Submit a design to galvaarts@gmail.com by February 5th. We will hold a public vote during our February 10th coffeehouse. The creator of the winning design will receive a t-shirt featuring their design, VIP seating for the whole series and a picnic backpack.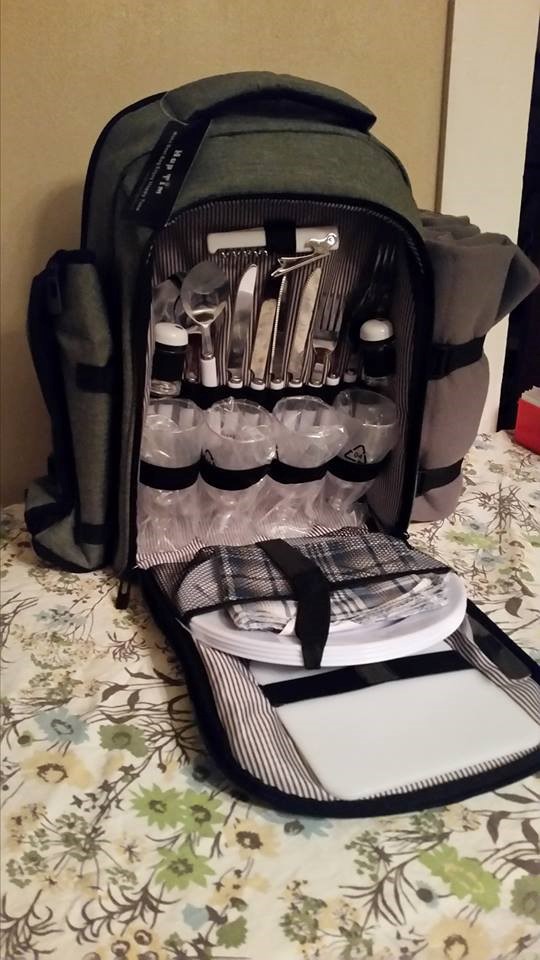 Our mailing address is: Galva Arts Council PO Box 29 Galva, Il 61434
Machinery Pete Comes to Galva...
Jerry and Connie Kuster give Machinery Pete a tour of their International Harvester (and more) collection.