headlines!
about town!

Thanks to all...
The Galva Area Chamber of Commerce wishes to thank all of the participants and all the contributors that made this year's Ol' Fashioned Christmas a success.
Special thanks to:
The Galva Supermarket for hosting breakfast with Santa
The State Bank of Toulon for sponsoring the carriage rides.
Mr. Tom Anderson and the Galesburg Railroad Museum for donating The Little Chooch Train rides.
Thanks to the pageantry and float entries in the parade and Harlan and Sally Nelson for donating the hay rack, sleigh and space to work on the COC float.
Colleen Lewis, chaperons, and COC Harvest Pageantry for the edible ornament booth.
Many thanks to Mayor Rich Nordstrom, City Administrator Dave Dyer, Mouse Townsend and all of the city workers for preparing and putting the lights up in Veterans Park.
The Fire Dept and Chief Tarleton for the parade line-up.
The Galva Police Department and Chief Jerry Clark for providing escorts and traffic control.
The Galva Arts Council for hosting a fun filled day for all.
The First Baptist Church (Don Reul) for the sound system and Mike and Jackie Clucas for the use of their building as COC Headquarters.
Lastly, special thanks to Santa and Mrs. Claus for making the day special for all of our youngsters.
Press the Play Button below for a short video of the festivities
Your Galva Area Chamber of Commerce will be holding its Annual Dinner on the 18th of January, 2014, so hold that date! Location: Kewanee Dunes. Time to be determined. Stay tuned here for further information, and do not forget to "LIKE" the Chamber on facebook.
Hear Ye! Hear Ye! The Galva Chamber of Commerce announces Ol' Fashioned Christmas Schedule of Events...
Click on image for a printable copy
Bishop Hill Announces Christmas Market Activities...
Bishop Hill Plans for Julmarknad (Christmas Market) BISHOP HILL, IL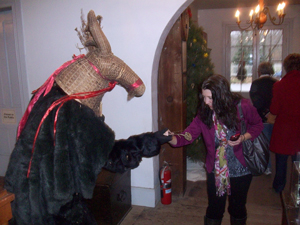 Prepare for the holidays by attending Julmarknad, or Christmas Market, in Bishop Hill.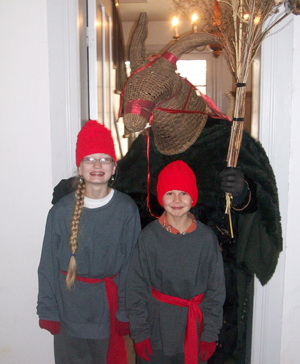 Hours are 10 a.m. to 5 p.m. November 29-December 1 and December 7- 8.
The attractions include Swedish folk characters, traditional Swedish holiday decorations, and Christmas gifts for sale.
See Tomten, our Swedish elves, roam through the town, shaking hands with tourists, looking through windows, and peeking around corners in their red and grey outfit.
Watch out for the Julbock, Yule- Goat!
Cookie baking will be done in the 1860's Bjorklund Hotel kitchen. Sample freshly baked cookies from 1 to 3 p.m. on November 29-December 1 only.
A Christmas Cookie Walk will be held Fri. Nov. 29 and Sat. Nov. 30 only at the Colony School. Homemade cookies and baked goods can be purchased by the pound. Hours are 9 am to 4 pm.
***Also this year, children can visit with Santa on Saturday, November 30 at the Welcome Center from 11 am to 2 pm sponsored by the Prairie Arts Center.
A Chocolate Walk will be held Sat. Dec. 7 and Sun. Dec. 8 only. Purchase quality chocolates by the pound at the Welcome Center. Hours are 10 am to 5 pm.
Several new exhibits will also be on display throughout the town. Wintertime in Bishop Hill will be presented at the Bishop Hill Museum. A working model railroad with the exhibit Swedish Christmas Traditions will be on display in the Steeple Building. At the Welcome Center, a Christmas tree display will be created that illustrates the Bishop Hill Colony's rag rug industry. A multi-artist exhibit will also be located at VagnHall Galleri in the Prairie Arts Center.
Bishop Hill is located 150 miles southwest of Chicago and 20 miles east of I-74 in Henry County, IL. For more information call 309-927-3899. Visit us at www.bishophillheritage.org Julmarknod events are sponsored, in part, by a grant from the Illinois Arts Council, a state agency. Download the Official Press Release.
Megan Sundeen, founder and owner of Sundance Growth and Learning Stable is introducing a new growth and learning program to the Quad Cities and surrounding areas.
Equine Assisted Psychotherapy (EAP) and Equine - Assisted Learning (EAL) are fresh new approaches to mental health growth and learning needs. The difference is the office setting..
Rather than being stuck inside, sessions take place in a horse arena.
An IL Certified Teacher / Certified Equine Specialist facilitates EAL sessions to address learning goals. EAP is co-facilitated with a Licensed Mental Health specialist and Equine Specialist to meet specific therapeutic goals. This quickly emerging field of mental health growth and learning is proving to be more effective offering quicker feedback.
EAL is also less expensive overall than traditional talk therapy. Additionally, the possibilities for personal growth are endless when provided in a unique setting that is natural and non-judgmental.
No experience with horses is required or needed; and horseback riding is not required.
Megan is a certified teacher and equine specialist whose facility is located just east of Cambridge, Illinois. Moreover, if you cannot come to Megan, Megan has the ability to bring the program (including the horses) to you.
For more information on this unique program, please download the official Sundance Stable Brochure.
For information on the Sundance Stable "Filly Power" program for girls 13 through 18 years of age, please download the Filly Power Brochure.
For information on the Sundance Stable "Stable Relationships" program for Moms and Daughters, please download the Stable Relationships Brochure.
Soon, Megan will be teaching an introductory course to Equine Assisted Growth and Learning for Black Hawk College as part of their PaCE Program. The course starts Feb 2, 2014 and will be held at BHE (Black Hawk East Campus).
Veteran's Day...
The City of Galva held its annual Veterans Day Ceremony in Veterans Park.
The ceremony started promptly at the eleventh hour on the eleventh day of the eleventh month when newly minted City employee John MacArthur, under instructions from Galva Water & Sewer Superintendent Greg Thompson, sounded the horn signaling the beginning of the commemorative event marking "the end of the war to end all wars."
Following are a few pictures of the event celebrating our veterans.
Quilter's Road Trip...
The rules were few and simple!
Create a quilt 14 x 18 or 18 x 14 using the provided "road fabric"
The road can run in any direction
The quilts will be displayed road-to-road
Any method may be used to create the quilt: appliqué, piecing, photo transfer, paint, embroidery, etc.
No binding - finish by facing or enveloping
Label should include name, name of the road and a short description
To see the finished product, visit the Smith Studio and Art Gallery located at 124 South State Street in Geneseo, Illinois.
For more on the project, the artists, and their creative vision, download the official press release.
contact us!