Welcome to our site

Blue Eyed Blondes...
On Thursday, October 12, the Blue Eyed Blondes will be preforming in the Dairy Building at 7 p.m. This Swedish folk and country music duo was founded in 2008 and have performed at a variety of different venues over the years. Lina Lönnberg sings and plays the guitar and melodica. Kristoffer Emanuelsson also sings and plays the guitar and banjo. Blue Eyed Blondes perform stripped down acoustic music, influenced by old time, folk, gospel and bluegrass combined with Swedish folk songs. At the center of their music is good stories and the soulful sound of two voices in beautiful harmony.
This concert is free and open to the public. This musical performance is sponsored by the Bishop Hill Heritage Association and the Twinflower Inn. The Dairy Building is located at 410 North Erickson Street, on the north end of Bishop Hill. For more details about the concert, call 309 927-3899, email bhha@mymctc.net or look online at www.bishophillheritage.org.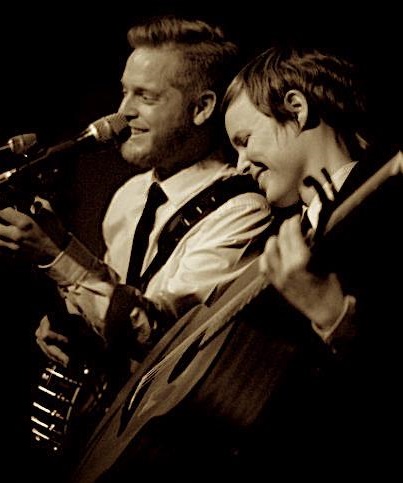 Jordbruksdagarna is back...
You don't have to say "Jordbruksdagarna" to know what it means: food, music, dancing, games, crafts, and much more at Bishop Hill. The annual fall festival (pronounced yord-brooks-DAH-ga-na) takes place Saturday September 23 and Sunday September 24, 2017. As always, there will be a variety of traditional craft demonstrations in the village park during the 46th Jordbruksdagarna (Swedish for "earth work days"). Artisans will make rope, process flax, forge metal, and more. Vendors will also sell farm produce, pumpkins, pioneer popcorn, antiques, primitives, and much more in the park from 10 a.m. to 5 p.m. both days.
At the Bjorklund Hotel from noon to 4 p.m. each day, there will be demonstrations on how to press and cook sorghum and bake hard tack. Visitors can try their hand at shelling corn, making bricks, pressing cider, and making a cornhusk doll.
Sorghum Pressing
Brick Making
Performances in the park include Hammer and Pick at noon and 2 p.m., and the Nordic Dancers at 1 p.m. and 3 p.m. both Saturday and Sunday. The Burns Boosters 4-H club will host a petting zoo both Saturday and Sunday, from 10 a.m. to 4 p.m. Old-fashioned children's games will also be conducted in the park at 2 p.m. each day. By the children's games, the VASA Archives will have a seed saving activity for the kids as well.
Nordic Dancers
On Saturday only, people movers will be available to transport people around town to experience many of the activities, museums, and stores. Some of the stops will be the VASA Archives, the Henry County Museum, the Village Park, and the Colony Church. Visitors can explore Henry County's agricultural heritage at the Henry County Historical Museum, where a variety of antique tractors and implements will be displayed outdoors.
Also on Saturday, September 23, the Steeple Building Museum will be hosting two events. At 11 a.m., Johan Johansson will be performing an indoor concert. Johan is a Swedish singer and songwriter from Uppsala. He will be singing songs about Swedish history. Between 11 a.m. and 3 p.m. East Moline Author Lilly Setterdahl, a native of Sweden, will be promoting and signing several of her books on the front porch. Her 20th and latest book is a Swedish immigration novel, "Katrin, Almost American," set in Sweden and in Chicago.
Several Bishop Hill businesses are also having special events. Stop in for refreshments and browse a spectacular selection of everlasting floral arrangements, extraordinary eggs, and marvelous seasonal wreaths at an Open House on Saturday and Sunday at the Feathered Nest, located opposite the Colony School, from noon to 4 p.m. At the Peasant Works, they will be having a Kinfolk Barnfest with a DIY Colony Photo Booth and a Vintage & Handmade Market. Only on Saturday from 10 a.m. to 2 p.m., the Prairie Arts Center will be hosting a book signing by Mary Davidsaver, author of "Clouds over Bishop Hill."
Demonstrations
And, of course, food will be in abundance. The Bishop Hill Old Settlers' Association will serve "Colony stew" and rice pudding in the park. The Bishop Hill Heritage Association will be serving Svensk Varm Korv, Swedish hotdogs and pork burgers by the Colony Store 11 a.m. to 2 p.m. both days.
Vendors
For more details, call 309 927-3899, email bhha@mymctc.net or check out www.bishophillheritage.org.
Jordbruksdagarna is sponsored by the Bishop Hill Heritage Association, Bishop Hill State Historic Site, Bishop Hill Arts Council, Old Settler's Association. VASA National Archives, Bishop Hill Volunteer Fire Department and numerous local businesses, with the assistance of many volunteers. The event is also partly funded by the Galesburg Community Foundation, Illinois Art Council Agency, Nelson Farm Service, State Bank of Toulon, Bishop Hill Invenergy, TerraForm Power, a SunEdison company, and the Henry County Independent Insurance Agents Association.
*Photos courtesy of Lou Lourdeau.
Corn Husk Dolls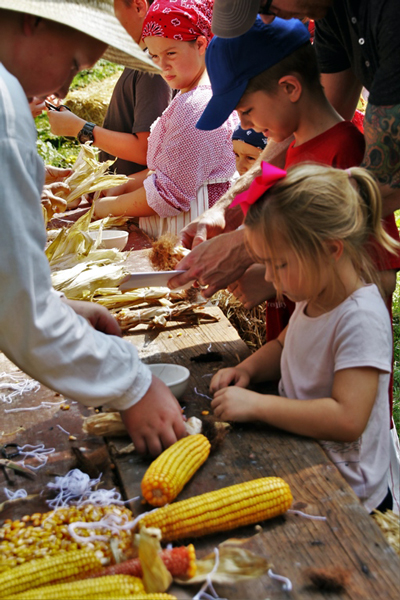 Collectors and Diners...
The Bishop Hill Heritage Association is organizing the 4th annual Collectors Weekend on Saturday October 14 and Sunday October 15, 2017. What is Collectors Weekend? It is the opportunity for local collectors to show off their treasures to the public.
For one weekend only at the Steeple Building Museum, display your collections, whether they are cap pistols, porcelain dolls, or other antique/vintage items. The BHHA will provide the site and the promotion; you will provide the display.
If you are interested in participating in this year's Collectors Weekend and would like to show off your treasurers, please call 309 927-3899 or email bhha@mymctc.net for more details. Items are for display only, not for sale.
In addition, the BHHA is hosting the premiere of Dinner and Drama at the Dairy on the evening of Saturday, October 14. For this fundraising event, a Swedish Meatball Dinner will be provided by the Filling Station. The dinner will be at the Dairy Building, located at 410 North Erickson Street. Following the meal, attendees will drive around Bishop Hill in people movers, provided by the Galva American Legion. As you tour Bishop Hill, historical figures from our past will step out and take you back to their time with stories from Colony days.
The cost of the dinner and the historical drama is $25 per ticket. Dinner times are 5:30 and 7 p.m. Call 309 927-3899 or email bhha@mymctc.net to order your ticket today, while supplies last. Proceeds from this event benefit BHHA activities.
Dairy Building
American Legion Announces August Events:
The Galva American Legion will be holding a community breakfast at the Galva Legion Building located at 45 Wallace Street on 10 September, 2017 from 7:00 a.m. until 1:00 p.m. They will be serving all you can eat pancakes, sausage, bacon, eggs, biscuits and gravy, coffee, milk and orange juice.Pop and bottled water are available for an extra charge.A donation of $6.00 is appreciated.
A Few Photos From the Galva Car Show...
Click any image to view it. Look for the "play" button in the upper right hand corner of your screen to start the slideshow feature (tip: you will find only a close button on the image itself, the play and pause controls will be off the image in the upper right hand corner of your screen).
For more Car Show photos, visit our Gallery.
Galva Masonic Lodge Holds 10th Annual Golf Outing...
The Galva Masonic Lodge will be holding their 10th annual golf outing on 16 September at Kewanee Dunes Golf Club. Proceeds from the event will be used to provide a scholarship benefitting a Galva High School Student.
click on the image below for a printable copy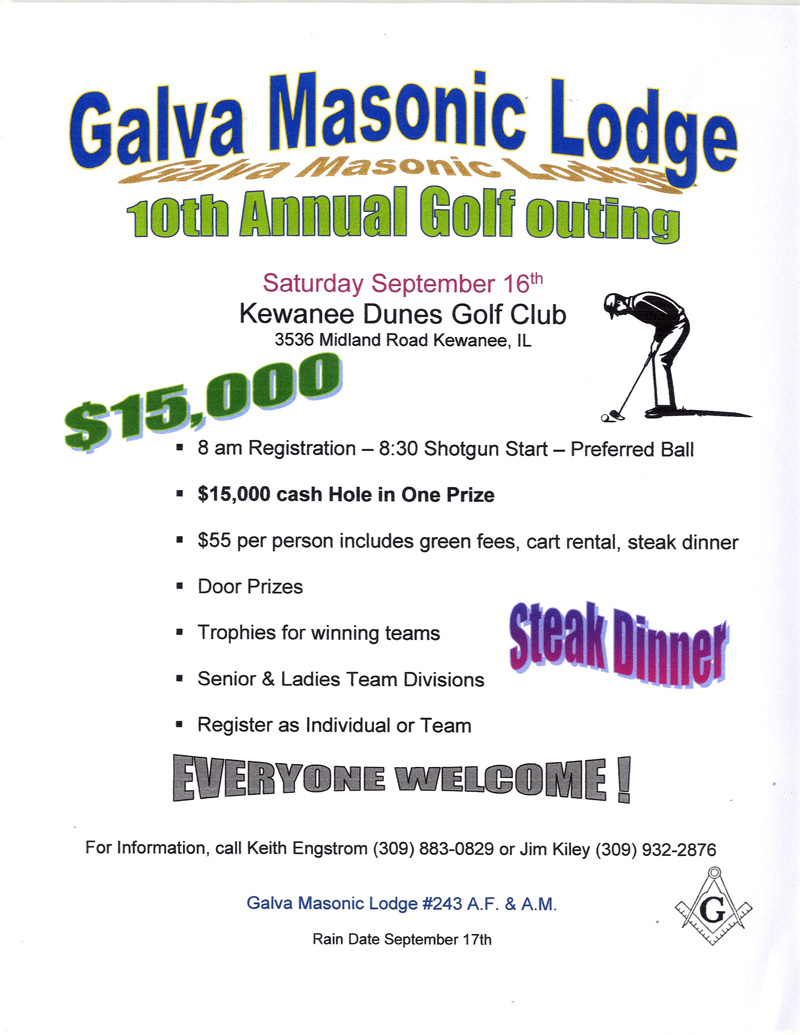 Machinery Pete Comes to Galva...
Jerry and Connie Kuster give Machinery Pete a tour of their International Harvester (and more) collection.