Welcome to our site
Galva Freedom Fest Announces...
The Galva Freedom Fest Committee announces two events, a Pancake
Supper which will be sponsored by the Filling Station in Bishop Hill and the 13th Annual Car Show which will be held in Wiley Park.
On Sunday, 7 April, the Filling Station in Bishop Hill invites you to come enjoy good company and delicious food from 5:00 p.m. until 8:00 p.m. for an at-will donation, the proceeds of which will be used by the Galva Freedom Fest Committee to defray the expenses incurred for the 4th of July Fireworks celebration held each year at the Galva Park District.
Directions To The Filling Station In Bishop Hill
On Saturday, August 17th of this year, the Committee will be holding its 13th Annual Car Show from 8:00 a.m. until 2:00 p.m. in beautiful, shady Wiley Park. Register early by clicking the image below:
Official Brochure & Early Registration Page
First United Methodist Announces Annual Ham Dinner...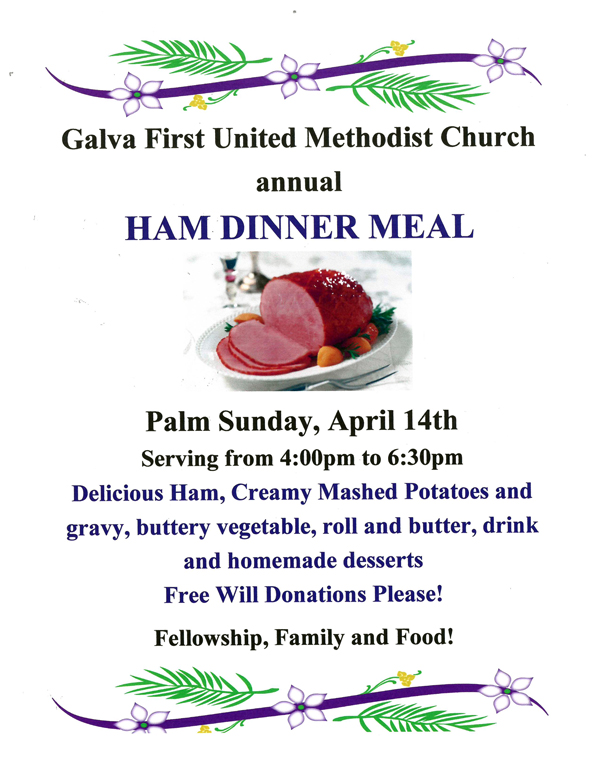 UI Extension Releases 2018 Impact Report:
The University of Illinois Extension has released their 2018 Impact Report for Henry, Mercer, Rock Island & Stark Counties.
University of Illinois Extension provides practical education you can trust to help people, businesses, and communities solve problems, develop skills, and build a better future. Based in the College of Agricultural, Consumer and Environmental Sciences, Extension is the statewide outreach program of the University of Illinois at Urbana
Champaign.
Introduced by Robert Jones, Chancellor of the University of Illinois and our very own Jenny Garner, County Director for the Extension's services in Henry, Mercer, Rock Island & Stark Counties, the Report includes information on the impact extension is having in the following areas:
Nutrition and Wellness
SNAP-Ed
Horticulture and Natural Resources
Agriculture
Community and Economic Development
4-H Positive Youth Development
Program Highlights
Financial Information
Staff Listing and Office Locations
View or Print the Report by Clicking the Icon Below
MUSIC AT THE BISTRO...
Chase away the winter doldrums with the warmth and uplifting, sunny music of classical chamber music programs coming up Feb. 24 and March 10 at the News Room Bistro in Toulon.
A trio led by Marcia Henry-Liebenow, concertmaster of the Peoria Symphony Orchestra, and a piano recital by Bruce Polay headline chamber music programs set, respectively, for Sundays Feb. 24 and March 10 at 3 p.m. in the News Room Bistro at 101 W. Main in Toulon (Route 17).
Marcia Henry Liebenow, Kyle Dzapo, flute, and Chee Hyeon Choi, piano, will perform works of
Rachmaninoff, Suk, Gaubert and others on Feb. 24.
Two Sundays later Polay, recently retired professor of music at Knox College, returns from his family's new home in Arizona to play a "swan song" program for his many fans in the Toulon area. Bruce's program will range from a Chopin nocturne to pieces by Rachmaninoff. Schubert and DeBussy to great standards like "Liebestraum" by Franz Liszt and "Someone to Watch Over Me" by George Gershwin.
The trio members are all faculty members in the music department at Bradley University and each has long credits of CDs produced, books authored, and performances here and abroad.
This past year, Marcia was featured several times on NPR's national program, Performance Today.
Both programs feature complimentary coffee, wines and sweets, and admission is by free will donation.
The News Room Bistro (no longer a bistro) is popular with musicians because its piano is grand and the 14-foot, 1890s wood-grooved ceiling and surroundings offer fine acoustics in an intimate setting. Audience members can almost literally reach out from their comfortable chairs and touch the musicians.
Click on the brochure above to view or download your own copy.
Click below for directions
Galva Arts Council Secures Second Award...
The Galva Arts Council will once again enliven Wiley Park through the second Levitt AMP Galva Music Series, further activating the large, underused green space into a dynamic hub for self-expression, connection and layered arts experiences set to free, live music from across the globe.
The 2019 series aims to deepen community engagement and expand upon community partnerships, creating a weekly communal celebration of the best Galva has to offer.
For photographs of last year's series of concerts, visit our Gallery or visit the official Levitt AMP Galva Facebook page.
American Legion April Events:
Community Breakfast - The Galva American Legion will be holding a community breakfast at the Galva Legion Building located at 45 Wallace Street on 14 April 2019 from 7:00 a.m. until 1:00 p.m. They will be serving all you can eat pancakes, sausage, bacon, eggs, biscuits and gravy, coffee, milk and orange juice.Pop and bottled water are available for an extra charge.A donation of $6.00 is appreciated.
On 27 April, the Galva American Legion will sponsor a Texas Holdem Tournament at the Legion Building. Sign in starts at 5:00 p.m. and play will start at 6:00 p.m. The entry fee is $50 and one rebuy will be available for $25.00. Food and drink will be available.
Sons of the American Legion...
The Galva American Legion Post #45 has received their charter for a new Sons of the American Legions Squadron.
The Legion is looking for new members to get the squadron rolling.
If you have a parent, grandparent or great grandparent or step parent or step grandparent that was in the military, you are eligible to join.
If interested, please contact Wayne Glisan at (309) 335 - 2931, Lloyd Anderson at (309) 853 - 7347 or Earl Stuckey at (309) 853 - 7917