Welcome to our site

Julmarknad is back...
Prepare for the holidays by attending Julmarknad, or Christmas Market, in Bishop Hill. Hours are 10 a.m. to 5 p.m. November 29, November 30, and December 7. On December 1 and 8, the hours are from 11 a.m. to 5 p.m.
The attractions include Swedish folk characters, traditional Swedish holiday decorations, and Christmas gifts for sale. All our shops, museums, and restaurants will be open to satisfy your holiday needs.
See Tomten, our Swedish elves, roam through the town, looking through windows, and peeking around corners in their red and grey outfits.
A Tomten Watches From The Tree
Guests will also enjoy the Julbock, the Christmas Goat. This trickster from Scandinavian entertains young and old with its antics.
A working model railroad will also be in the Steeple Building Museum, with a Christmas display.
At the Peasant Works, there will be a festive Swedish Folklore DIY Photo Booth in the barnyard, featuring tomten and julbock attire.
At the Bishop Hill State Museum each day, participate in the Olof Krans Paintings Scavenger Hunt.
Starting the first week of Julmarknad, the Bishop Hill Creative Commons is collecting name suggestions for their two giant Tomten, with public voting to follow. Please stop in at The Commons and add your ideas.
In addition, on Friday, November 29, help the Vasa National Archives create a paper mache Snowman from 10 a.m. to 4 p.m. Guests will be adding layers of paper mache to this holiday craft. This is a community project that is open to children of all ages. A Cookie Walk will be held at the Colony School from 9 a.m. to 4 p.m. Homemade cookies and other baked goods can be purchased by the pound. At the Bishop Hill Creative Commons, join Jelena Todorovich from 10 a.m. to 4 p.m. for the Christmas Ornament Paint and Take Activity. Participants can paint a traditional Swedish Dala Horse Ornament for a small fee. Finally, cookie baking will be done in the historic Bjorklund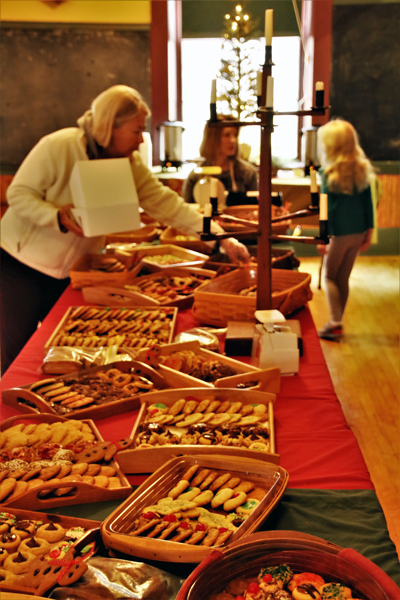 Hotel kitchen from 1 to 3 p.m.
On Saturday, November 30, the Cookie Walk will continue at the Colony School. The paper mache Snowman project will also continue at the VASA National Archives from 10 a.m. to 4 p.m. with painting and other personal touches being added. Jannifer Powelson, author of Bee in her Bonnet, will be doing a book signing at the Prairie Arts Center from 10 a.m. to 3 p.m. Tim Pletkovich, author of Nuns, Nazis, and Notre Dame, will be doing a book signing at the Colony Store. Cookie baking will continue at the Bjorklund Hotel kitchen. Sample freshly baked cookies from 1 to 3 p.m. At the Bishop Hill Creative Commons, make your own Tomte tree ornament from 9 to 11 a.m. Saturday is also Small Business Saturday, so please support your local economy and shop the small businesses of historic Bishop Hill.
On Sunday December 1 only, experience a LIVE BLUES Concert at the Bishop Hill Creative Commons with Chris Stevens and Greg Weinberg performing from 3:30 to 4:30 p.m. and David Bechtold from 4:30 to 5:30 p.m. Please view the Bishop Hill Creative Commons Facebook page for more details. In addition, Cookie baking will continue at the Bjorklund Hotel kitchen. Sample freshly baked cookies from 1 to 3 p.m.
On Saturday December 7 only, Santa will be at the Colony Store from 11 a.m. to 2 p.m. Make your own Sock Tomte at the Bishop Hill Creative Commons from 9 to 11 a.m. Lilly Setterdahl, author of Titanic Sailing Again, will also be doing a book signing at the Steeple Building Museum from 11 a.m. to 2 p.m. Make 'n Take Dala Horse workshop will be occurring at the VASA National Archives from 10 a.m. to 4 p.m. where Dala horses will be available for visitors to paint, while supplies last.
Model Train At The Steeple Building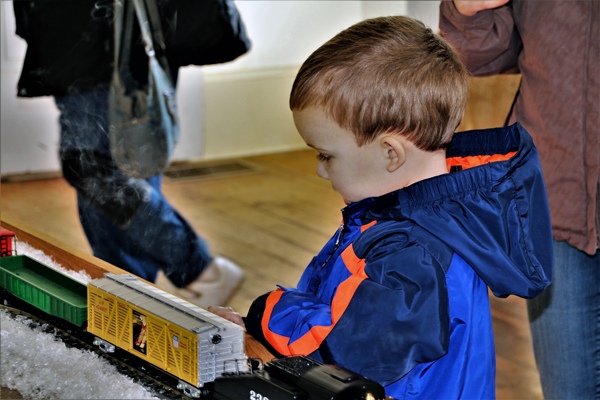 On both Saturday December 7 and Sunday December 8, children are invited to make edible tree ornaments at the Bjorklund Hotel from 1 p.m. to 3 p.m. Peanuts will be used. These ornaments may be taken home, or left at the Hotel to be placed on the Bishop Hill Park's Christmas tree during the tree lighting on Lucia Nights. A Chocolate Walk will also be held at the Dairy Building from 10 a.m. to 2 p.m. both days. Purchase quality homemade chocolates by the pound.
Baking At The Bjorklund
For more information about Julmarknad activities, please call 309-927-3899, email bhha@mymctc.net, visit us at www.bishophillheritage.org, or view the Bishop Hill Heritage Association Facebook page.
Julmarknad events are sponsored, in part, by a grant from the Illinois Arts Council Agency, a state agency, and by Community State Bank.
*Photos courtesy of Mr. Lou Lourdeau
Local Business To Participate In Bullpen...
Ron and Teri Pankau, owner of John H. Best and Sons, will participate in a Business Bullpen hosted by the Six County Entrepreneurial Support Network.
Join the Pankau's and other entrepreneurs for an after-hours networking event that will feature a panel discussion on entrepreneurship.
Local entrepreneurs will address the opportunities and challenges of starting a business and maintaining success.
Facilitator John Hoscheidt, WRMJ Radio, will lead the discussion.
Attendees will have the opportunity to submit questions to the Bull Pen!
Join us at 5:30 p.m. for appetizers and a cash bar.
The grand slam panel will take the field at 6 p.m. and includes:
Michael Acerra owner of Lux Blox
Ron & Teri Pankau owners of John H Best & Sons, and
Sue Sangmoen owner of Heartfelt Gifts, Inc.
The event will be held on Thursday, 7 November, from 5:30 pm until 7:30 pm at Cedar Creek Hall in Galesburg, Illinois.
Purchase your tickets in advance, get driving directions, and obtain further information on the Eventbrite Website.
Annual Hunger Dinner Announced...
*You may call for a delivery on the day of the Dinner between the hours of 2:00 pm and 3:30 pm using the following number: 932 - 3255
**Free Will Donations Accepted
Toulon Bistro Fall Music Program...
Bruce Polay will play beloved favorites of the piano by Schubert, Rachmaninoff, Chopin, Debussy and others at the News Room Bistro in Toulon on Monday, Oct. 21. Complimentary snacks and wine will be served at 6:30, with the program beginning at 7 o'clock.
Acclaimed violinist Marcia Henry Liebenow and pianist Andrea Molina present a program of Beethoven, Smetana, Amy Beach, Brahms and more on Sunday, November 10 at 3 o'clock. Sweets and refreshments will be served following the program, when the audience will have an opportunity to visit with the musicians.
Admission to both programs is by free-will donation.
Scroll down for directions to The Bistro.
Polay recently retired after 35 years as the director of the award-winning Knox-Galesburg Symphony Orchestra. His compositions have been performed by the Chicago Symphony and other major orchestras.
Marcia Henry Liebenow is concertmaster of the Peoria Symphony. She leads a multi-faceted career as a teacher, recitalist, chamber musician, and soloist across the U.S. and abroad. She has been featured on the national broadcast of American Public Radio's Performance Today four times this past year. Andrea Molina is the principal pianist for the Heartland Festival Orchestra and the owner and master teacher of Molina Piano Studio. She has been recorded by the Centaur New World recording labels.
Molina & Liebenow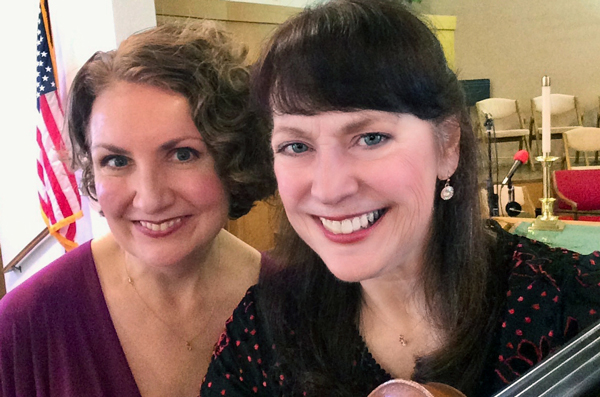 These programs are part of the annual Music from the Bistro series of chamber music and easy-listening jazz. Top musicians and audiences are drawn to the cozy setting and fine acoustics of the News Room Bistro, located in a 19th Century building in the quaint town of Toulon, on Route 17, 35 miles northwest of Peoria.
The Bistro
2019 Trunk or Treat Announced...
Click Image For A Printable PDF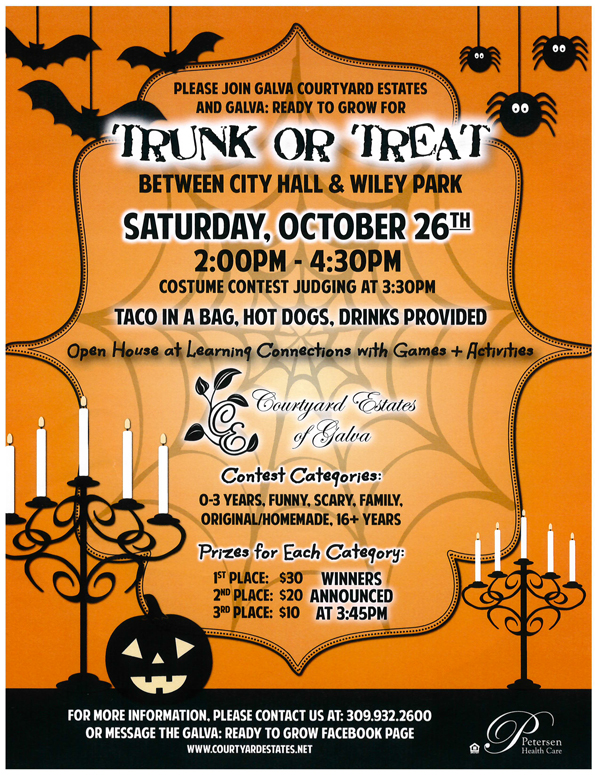 Santa Claus Is Coming To Town...
Census Bureau Launches Updated Website...
The U.S. Census Bureau recently launched a new version of 2020census.gov. The new website adds features, resources, and materials to help inform the public about the 2020 Census.
The site includes dozens of new Statistics in Schools materials, a new webpage to share facts about the 2020 Census, information on applying for jobs, and frequently asked questions (FAQs).
The new Statistics in Schools material will be released throughout the fall and includes 67 classroom activities, updated classroom maps with census statistics, three videos for students in grades K-12, a singalong song, and a new activity book for children ages 2 to 5. With these materials, teachers can incorporate Census Bureau statistics into subjects such as language arts, math and social studies.
From The Regional Census Center...
The Chicago Regional Census Center will begin Address Canvassing this week.
The purpose of Address Canvassing is to ensure the census address list is accurate and complete for the 2020 Census.
Your member governments and concerned households should be made aware that Address Canvassing is commencing and that there will be Census workers throughout communities until October 18th, verifying locations of houses, apartments, shelters and other places where people could live or stay.
The Chicago Regional Census Center's Office of Security sent a memo and a poster about Address Canvassing to each and every law enforcement agency in the country. The poster contains sample pictures of the official government badge with photo ID and the bag and laptop with the 2020 Census logo that address canvassers will have with them.
In addition, via a partnership with the International Association of Chiefs of Police, every police station in the country will show the Address Canvassing video this week at the start of police shifts, known as roll call, so that police officers know the operation is occurring and how to identify a census worker.
American Legion November Events:
Community Breakfast - The Galva American Legion will be holding a community breakfast at the Galva Legion Building located at 45 Wallace Street on 10 November 2019 from 7:00 a.m. until 1:00 p.m. They will be serving all you can eat pancakes, sausage, bacon, eggs, biscuits and gravy, coffee, milk and orange juice.Pop and bottled water are available for an extra charge.A donation of $6.00 is appreciated.
Galva Arts Council Secures Second Award...
The Galva Arts Council will once again enliven Wiley Park through the second Levitt AMP Galva Music Series, further activating the large, underused green space into a dynamic hub for self-expression, connection and layered arts experiences set to free, live music from across the globe.
The 2019 series aims to deepen community engagement and expand upon community partnerships, creating a weekly communal celebration of the best Galva has to offer.
For photographs of last year's series of concerts, visit our Gallery or visit the official Levitt AMP Galva Facebook page.
Sons of the American Legion...
The Galva American Legion Post #45 has received their charter for a new Sons of the American Legions Squadron.
The Legion is looking for new members to get the squadron rolling.
If you have a parent, grandparent or great grandparent or step parent or step grandparent that was in the military, you are eligible to join.
If interested, please contact Wayne Glisan at (309) 335 - 2931, Lloyd Anderson at (309) 853 - 7347 or Earl Stuckey at (309) 853 - 7917