Welcome to our site
City Announces Clean Up Days...
For Galva residents only, cleanup week will begin 20 June and end 25 June this year.
All residents are asked to bring items to Galva's Maintenance Yard to be placed in a roll off which will be provided by Eagle Enterprises.
Anyone who is handicapped or not able to take their items to the maintenance yard can call City Hall and someone will assist them. Assistance is available from 7:00 a.m. to 3:30 p.m. Monday, June 20th through Thursday, June 23rd. We will only come to your residence one time for pick up.
Items not accepted are anti-freeze, LP tanks, yard waste, paint, or any hazardous material. Tires will be accepted for a fee depending on their size. Televisions and electronic components will be accepted at Eagle Enterprises during their normal business hours.
The maintenance yard will be open extended hours Monday, June 20th through Thursday, June 23rd from 7:00 a.m. to 5:00 p.m.
On Friday, June 24th, the yard will be open from 7:00 a.m. until 3:30 p.m.
On Saturday, June 25th, the yard will be open from 7:00 to noon.
If you have any questions you can call City Hall 932-2555 from 7:30 a.m. to 4:00 p.m.
Galva American Legion Announces June Event...
The Galva American Legion will be holding a community breakfast at the Galva Legion Building located at 45 Wallace Street on 12 June, 2016 from 7:00 a.m. until 1:00 p.m.
They will be serving all you can eat pancakes, sausage, bacon, eggs, biscuits and gravy, coffee, milk and orange juice.
Pop and bottled water are available for an extra charge.
A donation of $6.00 is appreciated.

Hydrant Flushing Schedule Set...
Beginning 13 June, Public Works Director Greg Thompson advises that the City Water Department will be flushing hydrants. Flushing will start in the S. E. And S. W. parts of town then proceed to the N. W. section, and ending in the N. E. section of town. Rusty water can occur in any part of the town during this time. People should run water a few minutes before washing clothes.
Silver Streak Slated for Galva Car Show...
Long before Thelma & Louise rode off in their '66 Thunderbird convertible, there were the Gypsy Coeds. In the mid 1930s and
early 40s, this group of fiercely independent young ladies would pack themselves and a few belongings into Darlene Dorgan's silver 1926 Model T Touring Car (dubbed the Silver Streak) and set off during the summers in search of adventure.
Darlene and various combinations of 19 other girls made eight trips, logged over 71,500 miles and found adventure at every turn.
They met the reclusive Dr. Dafoe and watched the Dionne quintuplets play outside through a one-way screen. They attended the New York and San Francisco World's Fair; met movie stars and moguls, dignitaries and corporate leaders; slept in parks, schoolyards, jail cells and by the side of the road; and formed a special bond with Henry Ford who hosted and assisted the girls on many occasions.
John Butte had heard stories about these trips from his mother (one of the Gypsy Coeds) and, upon her death in 2011, was determined to find the car. He tracked it to Portland, Oregon where Darlene's descendants had taken it after it had sat in storage for decades at the Dorgan's Bradford, Illinois home. John purchased the Silver Streak and brought it back to the Bradford area. Remarkably, the exterior had never been restored…and it still ran. Butte's desire to preserve the car quickly evolved into preserving its history as well.
An exhibit entitled "Gypsy Coeds Ride the Silver Streak" was created by the Peoria Riverfront Museum and John Butte that tells the stories of the girls' travels through 44 states, Mexico and Canada at a top speed of about 45 miles an hour. After its highly successful debut at the Peoria, IL museum last fall, the Silver Streak — along with pictures and fascinating information about the Gypsy Coeds and their trips — will be on display at the Model T Museum in Richmond, Indiana from April 9 to August 7, 2016, after which the famous car will head to beautiful Wiley Park in Galva, Illinois for the 10th Anniversary of the Freedom Fest Car Show held on Saturday, 13 August, 2016.
United Methodist Churches Announce iServe...
On June 4-5 the Neighbors in Christ parish of United Methodist Churches will hold the fourth annual iServe event in service to God and to our communities.
Saturday, June 4 is our day of service to our wider community.
Anyone in the Galva or Bishop Hill area can ask for assistance in completing projects they cannot do ontheir own. Volunteers will provide free help with yard work, painting, building repair, household cleanup and simple errands. Nonprofit organizations can also receive assistance with projec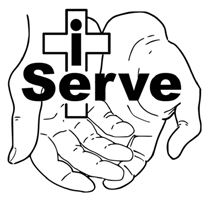 ts on their property. Some financial help is available to purchase supplies for projects.
Anyone who wishes to have a project completed by the iServe volunteers will need to complete a Project Work Request. They are available at Galva City Hall, Galva Library, Galva Senior Citizens Center, both banks, Lincoln House, post offices in both towns, the laundromat, Bishop Hill Community United Methodist Church, Galva First United Methodist Church, Grace United Methodist Church, Congregational Church, Messiah Lutheran Church, and St. John Catholic Church.
A Project Work Request can be downloaded from this site or at www.neighborsinchrist.com through April 30.
A Project Work Request nmust be returned to the parish office at 214 NW 2nd Avenue in Galva or sent electronically to galvafirst@frontier.com by April 30.  Once the Project Work Requests have been received, persons organizing work teams will be in contact to get more details on the work to be done and to visit the work site to confirm that volunteers will be able to complete the work requested.
We also welcome anyone who wishes to volunteer time to serve neighbors in our community.  Work teams will be organized by the iServe planning team beginning in early May.  To volunteer, simply contact the parish office at 932-2460 or at the email listed above.  This can be done at any time.
On Sunday, June 5 there will be fellowship time with refreshments beginning at 9:30a.m. at First United Methodist Church.  Worship will begin at 10a.m.  After worship everyone is welcome to stay for a free cookout meal and sundae bar.  All are welcome to be part of this time celebrating God's love for us and our call to serve one another in love.
Things to remember:
Submit your application by the April 30th deadline
Questions may be directed to galvafirst@frontier.com or you may call 932 - 2460
You can download the application or pick it up at one of the locations listed above.
Murray Makes Guide To Park Displays Available...
Jordan Murray, Galva's own artist emeritus, has made available for viewing and downloading a brochure dedicated to the display stands you will find throughout Veteran's Park in downtown Galva.
Entitled "Art For History's Sake," the brochure invites residents and visitors alike to take a stroll through the park to learn more about Galva and the Swedes that settled her by viewing the poster boards affixed to the stands designed by Murray and manufactured in Galva by Best Manufacturing (which, incidentally, is Galva's oldest continuous business).
So, download your copy and discover what happened to the original fountain in the Park (and many other surprising facts); and don't forget to take that stroll.
Murray Remembers Rich Falk...City Participates in Falk Fund raiser...
Like the rest of Galva, Jordan Murray is a Rich Falk fan and has tracked the gentleman-athlete's exploits since watching him practice basketball in Wiley Park. The following is from a draft of a forthcoming brochure about Galva's superstar as envisioned by our artist emeritus, Jordan Murray, and which will accompany the release of his tribute maquette of Mr. Falk. The maquette, which awaits finishing touches by the master and a fundraising to complete, is the fourth in a line of bronze tributes which Murray calls his "Heroes of Galva" series:
"Born to Don and Charlotte Falk of Bishop Hill, Rich was an honor student and was constantly practicing basketball. I remember his practicing basketball in Wily Park while he was a junior at Galva High and I was only in the 6th grade at Lincoln. He was remarkable as he was a star not only in basketball but as a quarterback in football and as an athlete in track. He was named to the second string western Illinois all-conference football team. Nonetheless, his shining glory was in basketball."
Murray continues: "Even in his sophomore year he scored 421 points, scored 637 points as a junior but in his senior year in 1959-60, he put up 833 points in 28 games for an average of 29.7 points per game. A remarkable feat as there wasn't a 3-point shot back then!"
Murray's clay study of Falk stands about 22" high and is to be cast in bronze with a 1/4" wall. When finished, the tribute will weigh about 40 pounds. Murray notes that Rich Falk was much admired for his six foot muscular frame and while in Galva sported a widows-peak hair line and flat top hair style that did nothing but add to his signature clean-cut image. Naturally, Murray's tribute will have Falk sporting his Galva basketball jersey, and when finished, the bronze will be supported by a hand-crafted custom base.
Murray anticipates that he will need about $5,000 dollars to finish the piece with the bulk of those funds going to the bronze and casting; and the City of Galva is proud to act as the agent for the requisite funds. Help us pay tribute to this hero of Galva and bring your donations by City Hall or drop them in the mail to us with a note that the money is to be used only for the Rich Falk tribute.
Jordan Murray in his studio