headlines!
about town!

First United Methodist Church Announces 2015 iServe Day...
If you need help with odd jobs, painting, carpentry, yard work, cleaning or errands, the iServeVolunteers may be able to help you.
On 27 June, 2015, a team of iServe Volunteers may be able to come to your home or nonprofit location and do jobs that you need help doing.
To apply for help, fill out an application *and return it to the Neighbors in Christ Parish Office located at 214 NW 2nd Avenue in Galva.
The deadline for applications is 31 May, 2015, so don't delay, get your application in as soon as possible.
Questions about the program may be directed to the Parish Office at 932 - 2460 or submitted by Email to: galvafirst@frontier.net
*Applications may be filled out on line, however, you must save the application to your computer in order to attach it to an Email message or for printing and mailing to the address above.
Applications may also be obtained from City Hall during normal working hours.
Hydrant Flushing Announced...
The Water Department will begin flushing hydrants March 25th. Rusty water may occur in any part of the City during this time. Residents are advised to run water for a few minutes prior to washing clothes to ensure a clear stream of water.
Bishop Hill Kicks Off Its Spring Jubilee...
The state historic site of Bishop Hill, Illinois, will begin the 2015 season with kick-off activities on Saturday, April 11. This is the weekend when we say goodbye to a long winter and get out and enjoy everything anew.
The Bishop Hill Arts Council is sponsoring an Art Show at the Welcome Center. Featured artist is Jillie Swanson of Galesburg. There will be a reception from 10 a.m. to noon to meet the artist. The Welcome Center is located at 207 North Bishop Hill Street.
Sweet Annie Primitives is having their Spring Open House from 10 a.m. to 4 pm. Inside you will find early cupboards & tables, jugs & crocks, quilts & textiles, dried everlastings, gardenware, and much more. Sweet Annie Primitives is located at 106 South Bishop Hill Street. They will also be giving tours of their home, the 1855 Colony Apartment Building.
"Put a Little Art in Your Garden" by attending a studio open house at Hantverk Galleri, featuring handmade garden inspired pottery birdhouses, plant pots, totems, fairy houses, butterfly spas, and more. The open house is from 10 a.m. to 5 p.m. both Saturday and Sunday. Hantverk Galleri is at 403 North Bishop Hill Street.
The Bishop Hill Museum will be providing bird nesting materials for people to put in their yards. The museum is located at 304 South Bishop Hill Street.
Richard Morthland will perform a first person portrayal of John Deere at 2 p.m. in the Dairy Building, located at 410 North Erickson Street. John Deere's agricultural innovations, especially the self-scouring steel plow, monumentally impacted farming methods during the formative years of the United States, making expansion into the vast prairies and plains possible. This free, public program is sponsored by the Bishop Hill Heritage Association.
Come join us for Spring Jubilee! Visit http://bishophill.com for further information or call (309) 927-3899.
This event is sponsored, in part, by the Illinois Arts Council and the Illinois Humanities Council.
Bishop Hill Heritage Association Announces Grant...
The BHHA is proud to announce that it has recently received a grant of $250 from the Galesburg Community Foundation to help support Civil War Days for Schools on Friday May 8.
In this program, a living history camp will be set up in the village park, where demonstrators and Civil War reenactors will be on hand to teach area students about Civil War era/19th century topics and skills. Some of the topics that will be covered include the following: Artillery Cannon Drill, Cannon Balls and Projectiles, Children Can Do Genealogy, English Country Dancing, the Soldier's Grave: Civil War Cemeteries and the Men Who Rest There, and much more.
The BHHA is very thankful for the generous continued support given by the Galesburg Community Foundation.
If you would like more information about Bishop Hill Civil War Days or other Bishop Hill events, please call the Bishop Hill Heritage Association at 309 927 - 3899 or email bhha@mymctc.net
Download the Official Press Release.
Ultra-Marathon Coming To Hennepin...
Ultra marathoners--a growing, international community of runners and racers who consider a 26.2 mile run a warmup--will race non-stop day and night along 100 miles of Northwest Illinois' Hennepin Canal State Trail this September 12-13, 2015.
What are the payoffs for running 16 to 30 hours straight? Runners will receive a commemorative belt buckle, possibly a world-record time on the table-flat course, and new attention and resources to help improve the worn-down, 104-mile trail.
Up to 350 racers, supported by more than 1000 crew members and volunteers, will line up for the Hennepin Hundred on Saturday morning, September 12, 2015, in Sterling, Illinois. There are two route options: a 50-mile route that finishes at the canal's Lock 17 near Wyanet, Illinois, and a 100-mile route that ends at Timbrook Field in Colona, Illinois, near the Quad Cities. The 100-mile route also offers a team relay event.
The 50-mile racers are expected to finish Saturday night, but 100-mile racers will run through the night, most of them finishing early on September 13, 2015. The fastest 100-mile racers will finish in less than 16 hours, averaging nine minutes per mile or less.
The point-to-point ultra-marathon race passes through Illinois' picturesque rural towns and countryside. It's these features of the Hennepin Canal State Trail that the Hennepin Hundred's organizers, MUDD Ultra-running Dudes & Dudettes and Trails for Illinois, hope to promote and enhance. Their goal is to use the attention and some of the proceeds from the race to improve all trails which visitors experience year-round.
A Short Section of the Picturesque Hennepin Canal Trail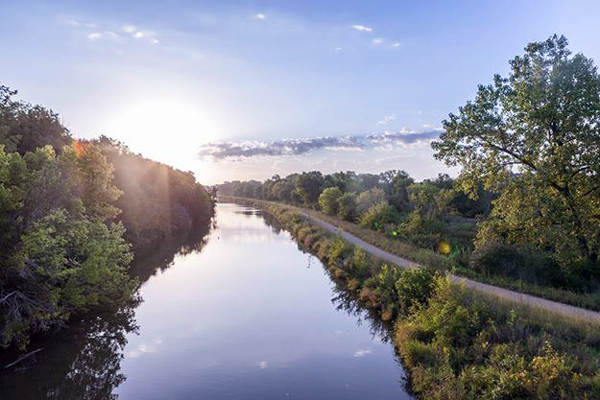 "A contiguous 100-mile trail for hiking, biking, snowmobiling, and horseback riding sounds like another great Wisconsin vacation to most Illinoisans--but this 100-mile trail is in Illinois" says Trails for Illinois executive director Steve Buchtel. "Illinoisans don't know about it because our state has a hard time promoting and maintaining the visitors' experience on our amazing trails. The Hennepin Hundred is already bringing national attention to the trail, and the money we raise can help Illinois improve and promote trail-oriented tourism."
Race director Michele Hartwig of MUDD Ultra-running Dudes & Dudettes says more than 70 runners have already registered for the Hennepin Hundred from ten states including Texas, California, and Hawaii. Registration is limited to 350 racers.
Hartwig thinks trail running races could benefit trails all around the state. "We've already used the Hennepin Hundred to launch an ultra-marathon series called Illinois Ultra Slam!" says Hartwig, "by partnering with three other existing ultra-marathons in Illinois to grow ultra-running and the appreciation of the trails we're all using." Hartwig says a long list of partnering towns and agencies are excited about the attention an international-caliber event can bring to the area. "They understand how unique a course this is and how fast it could be. We could have a world record set that weekend."
Partnering agencies and communities include the Illinois Department of Natural Resources, the communities of Sterling, Rock Falls, and Colona; the Friends of Hennepin Canal; Quad Cities Convention and Visitors Bureau; Blackhawk Waterways Convention & Visitors Bureau; Henry County Tourism Bureau; and Rock Falls Convention & Visitors Bureau.
There are hundreds of volunteer opportunities available over the race's 36 hours for local groups, clubs, and individuals, from manning aid stations to food runs to helping out on the course. Interested groups and individuals should contact dirtrunner100@yahoo.com.
Find more information on the Hennepin Hundred at muddrunner.com or on Facebook @hennepin100 or dirtrunner100@yahoo.com.
The mission of MUDD Ultra-running Dudes & Dudettes is to bring trail runners together for training, events, education, and community service. More information is available at muddrunner.com.
Trails for Illinois is a statewide, non-profit organization whose mission is to connect Illinois and its communities to a network of non-motorized trails. "We want your home to be your trailhead'" says Buchtel.
More information is available at trailsforillinois.org and on Facebook @trailsforillinois, or e-mail Steve Buchtel at steve@trailsforillinois.org.
Murray Remembers Rich Falk...City Participates in Falk Fundraiser...
Like the rest of Galva, Jordan Murray is a Rich Falk fan and has tracked the gentleman-athlete's exploits since watching him practice basketball in Wiley Park. The following is from a draft of a forthcoming brochure about Galva's superstar as envisioned by our artist emeritus, Jordan Murray, and which will accompany the release of his tribute maquette of Mr. Falk. The maquette, which awaits finishing touches by the master and a fundraising to complete, is the fourth in a line of bronze tributes which Murray calls his "Heroes of Galva" series:
"Born to Don and Charlotte Falk of Bishop Hill, Rich was an honor student and was constantly practicing basketball. I remember his practicing basketball in Wily Park while he was a junior at Galva High and I was only in the 6th grade at Lincoln. He was remarkable as he was a star not only in basketball but as a quarterback in football and as an athlete in track. He was named to the second string western Illinois all-conference football team. Nonetheless, his shining glory was in basketball."
Murray continues: "Even in his sophomore year he scored 421 points, scored 637 points as a junior but in his senior year in 1959-60, he put up 833 points in 28 games for an average of 29.7 points per game. A remarkable feat as there wasn't a 3-point shot back then!"
Murray's clay study of Falk stands about 22" high and is to be cast in bronze with a 1/4" wall. When finished, the tribute will weigh about 40 pounds. Murray notes that Rich Falk was much admired for his six foot muscular frame and while in Galva sported a widows-peak hair line and flat top hair style that did nothing but add to his signature clean-cut image. Naturally, Murray's tribute will have Falk sporting his Galva basketball jersey, and when finished, the bronze will be supported by a hand-crafted custom base.
Murray anticipates that he will need about $5,000 dollars to finish the piece with the bulk of those funds going to the bronze and casting; and the City of Galva is proud to act as the agent for the requisite funds. Help us pay tribute to this hero of Galva and bring your donations by City Hall or drop them in the mail to us with a note that the money is to be used only for the Rich Falk tribute.
Jordan Murray in his studio
contact us!