headlines!
about town!

Bishop Hill Continues...
Exciting things are happening in Bishop Hill, despite state cutbacks. Starting on October 1, the Bishop Hill State Historic Site will be open only four days per week. However, the State of Illinois operates just three buildings in town. The other 27 Bishop Hill restaurants, museums, and businesses will remain open their usual days and hours. Many of these establishments are open seven days a week.
State cuts also do not impact any of the events being hosted in this pre-Civil War historic village.
In September alone, there are three weekend events. On September 6, there will be three activities going on in the village: a Chautauqua in the park, an open house at the VASA Archives, and a fall open house at Sweet Annie Primitives. September 13 is Old Settler's Day, with a Colony School Reunion scheduled for September 14. Finally, Jordbruksdagarna (Agriculture Days) will be held on September 27 and 28. Bishop Hill's traditional fall and winter events will continue as planned, with additional programs being added by a variety of organizations and businesses.
Bishop Hill Steeple Building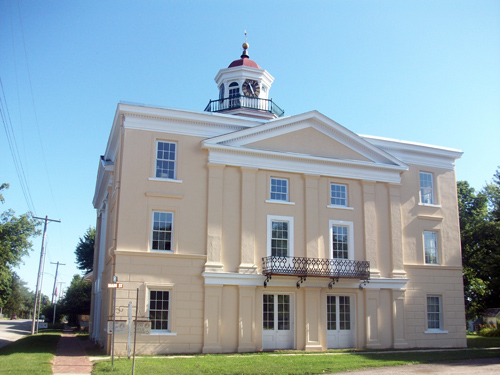 In addition, restoration work continues on the Colony buildings of Bishop Hill. The Bishop Hill Heritage Association has recently finished exterior restorations of the 1853 Colony Store and the 1854 Steeple Building. The BHHA is currently working on restoring the interior of the 1855 Dairy Building. The Bishop Hill Arts Council has recently saved and converted the Arnquist Store into the Bishop Hill Welcome Center. Other Colony Buildings, such as the Colony Hospital and the Colony Administration Building, have been brought back to life by private individuals.
Bishop Hill Ag Days
Bishop Hill Welcome Center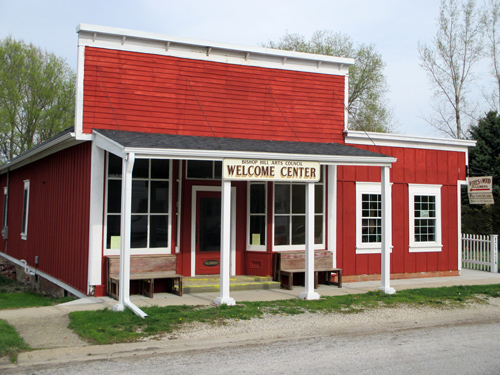 While it is regrettable that the Bishop Hill State Historic Site will have their hours reduced, the historic village of Bishop Hill remains open and ready to share our unique heritage with visitors. Call (309) 927-3899 or check out the Bishop HIll Website for additional details about the events and the unique businesses that Bishop Hill has to offer.
Lucia Nights In Bishop Hill
Photos courtesy BHHA.
Galva Freedom Fest Announces...
The Galva Freedom Fest Committee has announced that photographs from this year's car show are now available on their Website in the gallery. Following are a few to whet your appetite:
Rodney Atkins to Headline the Back Road Music Festival In Galva...
Country music star Rodney Atkins is heading to Galva to headline the first ever Back Road Music Festival on Saturday, August 16th, 2014 in the 33 acre Galva Park District.
Atkins is currently working on his 5th album and his latest release "Doin' It Right" is setting the tone of a fresh perspective of life for the rest of the album. He has landed several nominations with the ACM's and CMA's.
With the release of his most recent album titled "Take A Back Road" Atkins received his 6th career number 1 hit, as well as fastest-rising single to date with his hit title track. The lead off single "Take A Back Road" has also been named Song of the Year at the BMI Awards in 2012. This award has been earned along with 2 other Song of the Year titles, which include "Watching You" and "If You're Going Through Hell."
Don't miss your chance to see Rodney Atkins live at the first ever Back Road Music Festival! TICKETS ARE NOW ON SALE and can be easily purchased at midwestix.com. For more information on the Back Road Music Festival please visit https://www.facebook.com/thebackroadmusicfestival or on twitter @backrdmusicfest.
Gates for the event open at 2:00 Saturday afternoon with Frankie Ballard opening the show at 4:00. Along with Ballard and Atkins, Jon Pardi and Joe Diffie will also take the stage during the evening's festivities.
For more information, visit the Official Website.
See you there!
The Art of Pysanka...
On Saturday, August 23, Vera Samycia will be offering a free workshop where attendees will have a chance to work with their own egg and learn the art of doing traditional pysanka using the technique of wax resist dyeing.
Pysanka is the ancient art of decorating eggs.
Often associated with Easter, the eggs use a variety of symbols and motifs that tell important stories to those who are a part of the culture and understand the "codes" and tradition found in the eggs.
Vera will be at the Dairy Building at 11 a.m. to answer questions and to display her collection of pysanky. The actual workshop itself will start at 1:30 p.m. in the Diary Building and last 3 hours.
The Dairy Building is located at 410 North Erickson Street. All supplies will be provided. Space for the workshop will be limited to 15 adults, so call 309 927-3899 to reserve your spot.
Pysanka
Shine them up and show them off...
The annual Galva Car Show, sponsored by the Galva Freedom Fest Committee, will take place this weekend in beautiful, shady, Wiley Park.
Registration occurs from 8:30 until noon and the first 100 entries receive dash plaques.
Judging will be held from noon until 1:30 and awards will be announced at 3:00 for 1st, 2nd and 3rd places, along with the Mayor's Choice trophy and best of show trophy.
Breakfast and lunch will be available in the Wiley Park Pavilion and music will be provided by 3D Sound.
Raffles, door prizes 50/50, event t-shirts and a silent auction will be held throughout the day. Included in this year's auction is your opportunity to win four tickets to the Back Road music festival to be held at the Galva Park District the following weekend featuring Rodney Atkins, Jon Pardi, Joe Diffe and Frankie Ballard.
For more information call (309) 932 - 2555 visit the Galva Freedom Fest Web Page, and download the Official Brochure/Entry Form.
For more photos from last year's event, vist the Gallery Page of the Freedom Fest Website
America's Lost Children A Great Success...
An excellent program and great weather brought visitors to the Dairy Building on Saturday, August 9. Over 160 people listened to the Orphan Train in Henry County program, sponsored by the Bishop Hill Heritage Association. Mrs. Angie Snook, director of the Geneseo Historical Museum, shared in-depth stories about the orphans who were adopted here in Henry County and other parts of the Midwest.
Angie Snook, Presenter
Attendees
Photographs courtesy of Lou Lourdeau.
contact us!